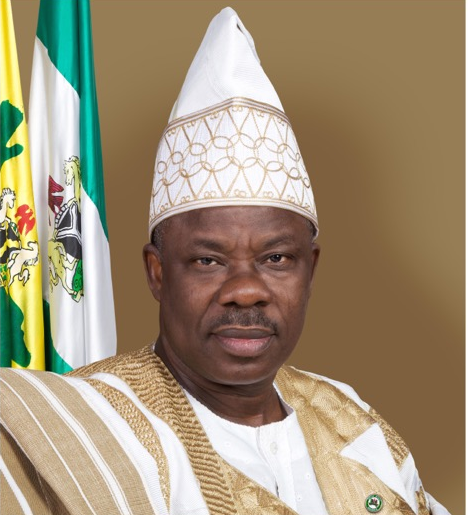 By Bolarinwa Ojesegun
In Ogun State, it is definitely not the season of discontent, as some would want the world to believe. In fact, contrary to the wishes of the army of Photoshop and mis-information experts prowling the landscape, the Ogun State of today is a place where success and good governance have found residence. It's a place where the glory of God shines from the top of the rocks of peace and progress!
And this is why some of us, ordinary citizens, not given to politics of misinformation are not only appalled by the futile attempts of some mischievous elements to alter the facts around developments in Ogun State, but are resolved, more than ever before, to never give in to the nay-saying apostles of malice.
Of course we know that whenever our electoral cycle comes around, it becomes the frantic occupation of the idle and treacherous to seek the scorching waste-yards of the market and the company of their cousin rodents and roaches. There, on the vomitorium of stench and decay, they often pitch their tents for the seasonal dance of nitwits.
Yet, in the final analysis, the truth often far outpaces their muck. Unknown to these professional charlatans, Ogun State has redefined politics and governance as the distinguished provenance of the best social, civic and humanitarian service, brought by a collective of the best of the people, to the homesteads of the people.
This is why in our Ogun State of today, there is so much to celebrate and still a lot more work to do! It is those who are willing wheels of progress that will readily come aboard the train of progress that continues to move forward while leaving behind the crowned morons of treachery stranded on the lonesome stations of failure.
A case in point is the recent effort of the state government to renew Ogun State's agricultural stock with a focus on rice. As a farmer, I know that the state ministry of Agriculture worked with citizens, farmers and stakeholders in the private sector to achieve this feat.
The MITROS Ofada Rice is grown, milled and bagged in the state, a formidable move aimed at ameliorating the scarcity and smuggling of rice. Anyone who understands the vagaries and promise of farming, like I do, will understand the incredible journey that we have made from initiative to plenty.
On December 21, 2017, the state government held a celebratory homage to our agricultural initiative and progress just in time for the end of the year. In MITROS rice our collective effort brought us one hundred thousand bags of rice! That is incontestable. It is an irreversible progress in the remarkable journey of growth and development for Ogun State.
The government in ensuring that the quality of life is markedly improved for the people, wherever they may live, whomever they may be, invested in and produced this feat! I make bold to say that before now, such epochal coordinates were wasted by previous governments of terror and thuggery. It is therefore no surprise that this success would turn the fowl bellies of these never-do-wells inside out. Alas! How they quibble and whine like brats of a wasted heritage. They opine odiously that they couldn't see the rice.
So, let us, for a moment, give the blabbering ones some banana, if they can still find their way home…
As one of the farmers involved in the entire process, I am aware that a point a decision was made to historicise this agricultural landmark in our dear state by paying visual homage to Egypt and the pyramids of Kano. Building a pyramid is a feat of engineering genius, an appropriate representation for the work of the Governor Ibikunle Amosun administration.
The optics of representation did not, however, mean the exact replication of the engineering mastery of Egypt. So we tested the engineering efficiency of our own pyramids, before the actual construction and display. We wanted to ensure that our pyramid of rice was strong and the safety of our dignitaries was taken care of. As we worked, we did several test runs one afternoon in broad daylight; and in open view of the public. No secrets, nothing to hide. We tested the structure with unbranded bags of rice, measuring weight and other dimensions to ensure stability and geometric efficiency. We took pictures of the work in progress, recording different angles and phases of the pyramid.
These pictures we exchanged among ourselves, some of us excited farmers and for our engineering teams, to assess work progress. Unknown to us, this level of conceptualization would befuddle some mindless nay-sayers. Alas, it is now these work pictures that are being bandied around by the idle minds. They have gone to town busy at what they do best as the 'party-of-No.' Their cabal of idiocy camouflages as opposition. It is our sad reality that even in our state, we harbour a battered group of people one could describe as mindless orangutans, members of the 'Party of Distress and Pettiness.' We will therefore not belittle our own intelligence and the seriousness of our collective destiny as sons and daughters of Ogun State, by giving them any further point by point response hereon.
Whether they like it or not, Ogun State is the story of affirmed success, for where were they when Governor Amosun renewed the landscape of our state, building new roads, creating a new network of possibilities for industrial growth? Are these roads imaginary or real entities that have also provided the ease of travel and transportation for our people? What tree were they climbing as Governor Amosun built the state's foreign exchange earnings? Ogun State, our state, now owns 75% of the Foreign Direct Investments (FDI), in Nigeria. We are rated as number one among the 36 states of the federation in the percentage improvement of the Internally Generated Revenues between 2014 and 2017.
A Yoruba master sculptor, Bisi Fakeye, when faced with a band of similarly afflicted empty critics, his response was to reach deep into the pockets of Yoruba wisdom. "Gbegi Gbegi ti gbegi tan, ti Gbenu Gbenu loku" he said. The master sculptor of three dimensional values has given the world his gift of art and life; let the mindless wagging tongues of the mouth-breathers slurp their idle tales, alone!
As a farmer who contributed to that success story, I cannot be swayed or distracted by nay sayers. The best I can do for them is to advice that they find a new pastime and make effort to be part of the march of progress. We encourage them to move away from mindlessly hopping from tree to tree, howling and hauling falsehoods.
Bolarinwa Ojesegun, a rice farmer, sent this piece from Abeokuta, Ogun State capital.