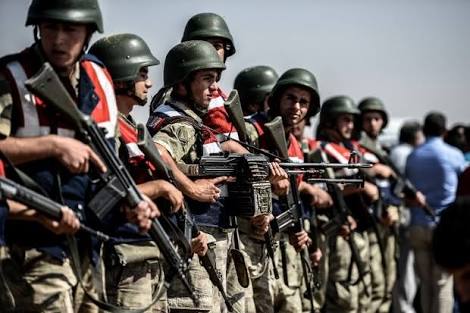 Turkish ground troops have crossed into northern Syria as part of Ankara's campaign to rid the border area of Kurdish fighters, Turkey's PM says.
Binali Yildirim said the aim was to establish a 30km (19-mile) "safe zone" inside Syria, Turkish media report.
Turkey launched its operation against the Kurdish YPG militia in the Afrin region with air strikes on Saturday.
According to BBC, the YPG denied Turkish troops were on Afrin soil, saying they had "repelled" the attacks and forced them to retreat.
The two sides have been exchanging fire. The Turkish military says it has so far taken out 153 targets belonging to Kurdish militants, while Kurdish rockets hit the border town of Kilis overnight.
The YPG (Syrian Kurdish People's Protection Units) is part of a US-backed alliance with a number of ethnic Arab militias called the Syrian Democratic Forces (SDF). The SDF has said it will have no choice but to defend itself if attacked.
On Saturday, Turkey announced that an air and ground campaign, dubbed "Olive Branch", had been launched at 14:00 GMT, targeting the YPG and Islamic State (IS) group jihadists.
The operation would be carried out "with respect for Syria's territorial integrity", it added.
Pro-Turkey rebels, known as the Free Syrian Army, have also begun moving into the area, according to the state-run Anadolu news agency.