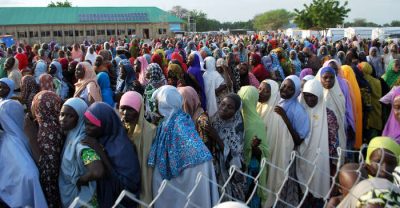 The Plateau House of Assembly Committee on Labour and Security has urged the state's Peace Building Agency to develop empowerment programmes for Internally Displaced Persons (IDPs) in the state.
Chairman of the committee, Mr Daniel Dem, made the call on Monday in Jos when the management of the agency appeared before it to defend its 2018 budget proposal.
According to Dem, most of the IDPs will want to go back to their original places of abode "once there is a means of sustenance".
"A lot of the displaced persons want to return to their original homes, but they don't have the wherewithal to do so.
"They lack the financial muscle to rebuild their burnt houses, buy their farming implements and even rekindle their former businesses.
"Many of the young ones among them have dropped out of school because they lacked money and no form of sponsorship coming from anywhere,"he said.
He said that their problem were beyond mere donations of food and clothing.
"They want empowerment. They want economic support which will help them move on.
"So, as an agency saddled with the responsibility of ensuring peace in the state, I think you should give this a serious attention," he said.
Responding, Director General of the agency, Mr Joseph Lengman, said that the agency, in its strategic plan, had captured the issue of the displaced persons, and assured that they would be well catered for.
Lengman added that the agency had gone into partnership with some international organisations on ways to support and empower the IDPs in the state.
"Peace building will not be complete when the IDPs are not catered for, because if they are neglected, there is high tendency of some of them going back to fuel crisis.
"So, in our five-year conflict strategic plan, the issue of empowerment of the displaced is well captured," he said.