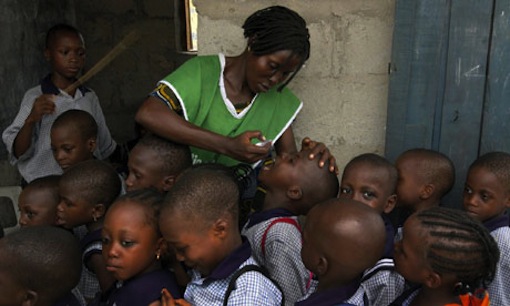 The wife of the Administrator, Kaura Local Government Council, Mrs Rhoda Agog, has commended parents in the area for embracing immunisation activities by making their children available for the exercises.
She expressed her gratitude while flagging off this year's first round of polio immunisation held at Anturung Village of Takad Chiefdom on Monday.
Agog said the sustained cooperation from parents had ensured steady success of the exercise in the area and appealed for maintenance of the tempo.
The council's administrator, Mr Zitung Agog, appreciated Government and donor agencies for their efforts towards eradicating child killer diseases.
He appealed for prayers for government at all levels to continue to live up to expectation for the good of all.
READ: UCH Ibadan gets 2 ambulances for geriatric centre
The paramount traditional ruler of the area, the Agwam Takad, Mr Tobias Wada, urged residents to visit health facilities in the event of illness.
Wada advised that rather than trying unspecified traditional treatment that would escalate their illness, they should seek conventional medical attention to arrest the situation in good time.
The council's Director of Health, Mrs Rahab Kurmi, also appreciated the support accorded health programmes by stakeholders.
Kurmi expressed satisfaction that results of previous immunisation exercises were encouraging.