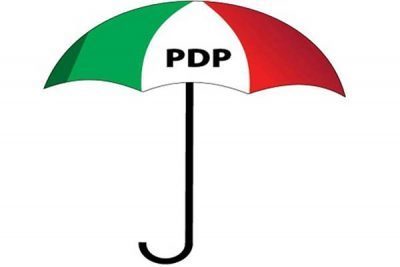 The Peoples Democratic Party (PDP) has criticised the demolition of its Borno State Chapter Secretariat on the order of the state governor, Alhaji Kashim Shettima.
PDP National Publicity Secretary, Kola Ologbondiyan, addressing journalists on Monday in Abuja described the action as a direct assault on the nation's democracy.
He also described it as a gross effrontery against the provisions of the 1999 Constitution as amended.
Ologbondiyan also described it as part of plot by the All Progressives Congress (APC) to cling to power.
He recalled that the PDP secretariat along Dandal Way in Maiduguri, the Borno state capital was demolised on Sunday Jan. 21, on the instruction of the state government..
"It is already in the public domain that the APC government in Borno state, for fear of the increasing popularity of the PDP, had mounted pressure on the owner of the building to eject our party.
"Frustrated by the refusal of the landlord, the governor issued a revocation of the Certificate of Occupancy on the property.
"He immediately instructed the agents of his government to demolish a house belonging to a citizen without any authorization of a court of competent jurisdiction.''
Ologbondiyan said that the party had directed its Borno state chapter to immediately seek redress in the court of law.
"We shall explore all processes within a democracy to ensure that Governor Shetima rebuilds the house, and that his government is made to face the spirit and letters of the law.
"The PDP wants peace but not at the expense of direct violation of the nation's democratic tenets and principles, which we successfully nourished and nurtured in our 16 years in office.''
He called on all lovers of democracy in Nigeria and across the world to join the party to collectively condemn the action.
Ologbondiyan also condemned "unrelenting persecution, arrests, detention and trial of opposition members as well as perceived opponents of government, including innocent business concerns.
These, according to him, were in line with the grand plot to discredit and stifle opposition in Nigeria.
He said that the ruling party having realised that its chances of winning the 2019 elections get slimmer by the day has now resorted to a vicious plot to physically attack PDP members and offices.
"Nigerians have not forgotten the political tension created in PDP strongholds in various states, including the recent attacks on our members, such as the attack on those holding a lawful meeting in Idanre, Ondo state.
"Also, the increasing unwarranted attacks by security forces on journalists, media houses and other well-meaning Nigerians carrying out their legitimate duties.''
Ologbondiyan alleged that they were attacked simply because they hold different opinions from those of ruling party interests.
He charged members of PDP to be at alert, calm and continue to work with party leaders at all levels.