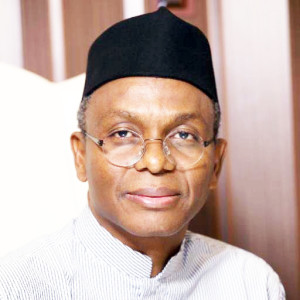 Gov. Nasiru El-Rufa'i of Kaduna State on Wednesday cautioned the youths against migrating illegally out of the country, saying rather, they should remain, work hard and build bright future for themselves.
The governor, who made the remark when he received officials of NYSC and PAIGAS who paid him a courtesy visit in his office, said the campaign instituted by the two on illegal migration was laudable.
He asked them to extend the campaign to the Nigerian Governors Forum, to accelerate engagement with the youths and help address the menace.
"Illegal migration is an unusual type of brain drain with several devastating effects synonymous with modern day slavery.
"The youth population in Nigeria nurture the wrong impression that Europe and the West are greener, whereas, unknown to them. the condition of living there is hard, unsympathetic and devoid of community life that accommodates the interest of one another."
The governor, therefore, advised the youths to liberate themselves from "erroneous sense of entitlement, work hard, acquire necessary knowledge, experience, get involved and seize political authority" as practiced worldwide.
He pledged to partner with the NYSC and PAIGAS in this respect.
El-Rufa'i assured that the state government would provide additional hostel accommodation and upgrade of facilities at the NYSC Orientation camp in Kaduna.
Earlier, Amb. Martin Uhomoibhi, the President, Pan-African Institute for Global Affairs and Strategy (PAIGAS), said the group consists of former Nigerians envoys and other imminent Nigerians who are committing themselves to this cause.
"We have decided to use our wealth of experience and resources to sensitize corps members on the dangers
associated with illegal migration."
Uhomoibhi expressed appreciation to the NYSC Director General, Brig. Gen Suleiman Kazaure for accommodating PAIGAS to reach out to serving corps members, as the bulk of illegal migrants were graduates.