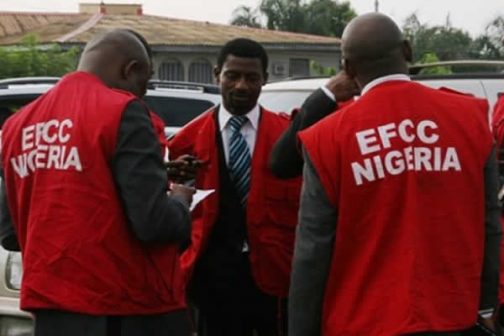 The Economic and Financial Crimes Commission, EFCC, Maiduguri Zonal Office has secured the conviction of one Aisata Abba Kwana, a Deputy Director with Maiduguri Municipal Council, MMC.
Kwana was convicted by Justice Fadawu Umar of the State High Court Maiduguri, Borno State on a two-count charge of obtaining by false pretence to the tune of N3,278,216.20.
The convict who was sentenced to one year imprisonment on the two counts charge is, however, to pay a fine of N250, 000 as optional. The sentence is to run concurrently
The judge further stated that the convict should compensate the complainants the remaining balance of N870, 000.00, in default of which she will serve six months imprisonment on each of the charge, to be run consecutively".
The convict pleaded guilty to the two court charge prefferred against her when she was re-arraigned .
Akwana's road to jail followed a petition received by the Commission, alleging that she fraudulently collected the pension of her late brother Waziri Abba Kwana from May, 2013 up to January 2017.
The convict presented the deceased as a living person while she knew he was dead and collected his gratuity cheque in February 2017 after she dishonestly presented a purported authority letter from the deceased without the knowledge and consent of his family members.
Count one of the ammended charge reads: "That you Aisata Abba Kwana between May 2013 and January 2017 at Maiduguri, Borno State within the Jurisdiction of this Honourable Court, with intent to defraud did obtain the sum of N 1,640,726.55(One Million Six Hundred and Forty Thousand, Seven Hundred and twenty Six Naira Fifty kobo) only, which you withdrew from account number LG 052 domiciled with Bank of Agriculture Maiduguri, maintained by Late Waziri Abba Kwana, under the false pretence that the said Late Waziri Abba Kwana was still alive and such withdrawals were authorized by him as payment of his pension which fact you knew to be false and thereby committed an offence Contrary to Section 320(a) of the Borno State Penal Code Law Cap. 102 and punishable under Section 322 of the same Law".