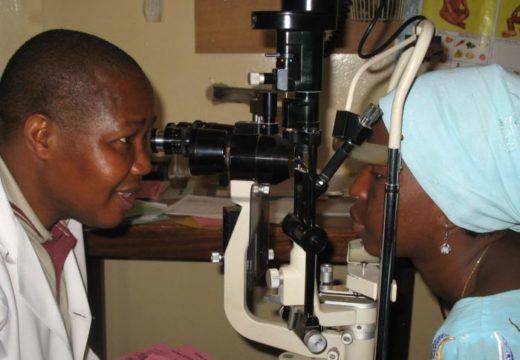 Dr Felix Nwarienne, a National Youth Service Corps (NYSC) member serving in Kano, has conducted free eye surgery on 16 patients at the Murtala Muhammad Specialist Hospital in Kano Municipal Local Government Area of the state.
Nwarienne, a 2017 Batch 'A' Stream l corps member serving with the Eye Clinic of the hospital, also provided free eye glasses to 100 patients as part of his Community Development Service (CDS).
Speaking during his visit to the hospital, the NYSC Coordinator in Kano, Alhaji Ladan Baba, commended the initiator for also treating some of the patients and offering free drugs to them.
According to him, such gesture by a corps member from Anambra will make great impact in the lives of the beneficiaries.
Baba enjoined other corps members posted to various communities in the state to emulate the gesture.
"Dr Felix's aim of this free treatment and surgery is to make sure that the people in the community where he is serving benefit from his service during his stay in the community," the director said.
He appealed to other corps members in the state to embark on serious group or individual community service so as to impact positively in the lives of their host communities.
The NYSC coordinator also called on wealthy individuals and private organisations to emulate the gesture to their host communities as social services to them.
While commending the initiator, the Chief Medical Officer of the hospital (CMO), Dr Muhammad Hamza, appealed to the NYSC to increase the number of corps members posted to the hospital.
Accordingly to him, the hospital needs more services of such corps members, adding that such efforts can serve as an eye opener to his colleagues and even wealthy individuals in the society.
READ: 1,200 bags of rice donated to Benue IDPs
Hamza explained that Nwarienne, who successfully conducted free eye surgeries worth N15,000 each for 20 patients, was the first corps member to execute such in the hospital.
Some of the beneficiaries that were operated, Hajiya Jummai Suleiman and Malam Ibrahim commended the Nwarienne for the free surgery and the hospital for giving him the opportunity and support.
"I have been suffering from Cattaraugus which is why I was not able to see for many years, but after this surgery, I can see clearly like I used to see before.
"If such people can be found in our communities, many people with health issues that cannot afford medical treatment can find it more easier to have proper treatment," Jummai said.
20 patients were screened, but after undergoing series of tests for the surgery only 16 were present during the proper conduct of the operation.