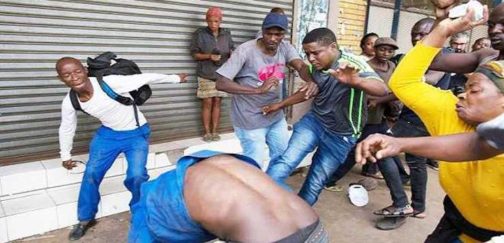 The Consulate of Nigeria in South Africa said on Thursday that an agreement had been reached with the police to meet regularly with the Nigerian community in Krugersdorp, near Johannesburg.
Mr Anthony Ogbe, minister (Consular and Immigration) at the Consulate and the leadership of the Nigerian Union met with the police on the recent violent demonstration in the area, the mission said in a statement.
Residents of Krugersdorp in Gauteng Province of South Africa destroyed several houses and business premises owned or rented by Nigerians during an anti-crime demonstration on Monday.
The South Africans alleged that foreigners, mostly Nigerians, were involved in drug dealing and running prostitution rings in their communities.
The Nigerian union, however, denied the allegations.
Ogbe said at the meeting that the consulate condemned criminality in the community and that the Federal Government was against anything that could discredit her image and affect well being of Nigerians anywhere.
"The meeting agreed to an arrangement where the police will meet with the leadership of the Nigerian community to review the relationship between the communities and Nigerians, share information on threats to security in the communities and work jointly to expose the criminal elements whose activities bring hardship on innocent law-abiding immigrants," he said.
At a meeting with Nigerians in the area, Ogbe urged them to eschew criminality, engage in lawful businesses.
He said that the mission was willing to assist those without meaningful engagement and willing to return home.
He said that the mission had concluded arrangements to hold town hall meetings with Nigerians in South Africa.
"The Consulate will use the meeting to take its anti-crime campaign to the Nigerian communities in the provinces.
"The Federal government is not happy with the incessant stories of attacks on Nigerians in South Africa and the negative narrative of involvement of some Nigerians in crime.
"Government is determined to change the narrative in 2018 to make way for more meaningful engagement with South Africans and promote increased cooperation and development for Nigeria," the envoy said.
Members of the Nigerian community pledged to be of good behaviour and to cooperate with the consulate to promote peaceful co-existence.