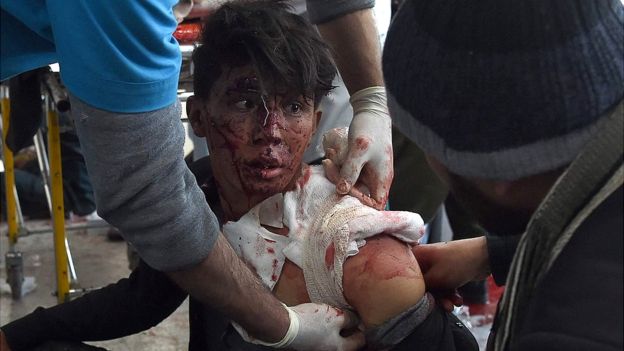 A suicide bombing has killed at least 95 people and injured 158 others in the centre of Afghanistan's capital, Kabul, officials say.
Attackers drove an ambulance laden with explosives past a police checkpoint in a secure zone, home to government offices and foreign embassies.
The target is believed to have been an interior ministry building, but many people were hit while walking by.
The Taliban have said they carried out the attack, the deadliest for months.
A week ago, Taliban militants killed 22 people in a luxury Kabul hotel.
Witnesses say the area – also home to offices of the European Union, a hospital and a shopping zone known as Chicken Street – was crowded with people when the bomb exploded on Saturday at about 12:15 local time (08:45 GMT).
Plumes of smoke were seen from around the city.
MP Mirwais Yasini told the BBC the area looked like a butchers afterwards.
He was having lunch at his family home, just metres away, when the blast went off. "First of all we thought it was inside our house," he said. Then he went outside and saw scattered bodies. "It is very, very inhumane."
Another witness, a software engineer who wished to remain anonymous, told the BBC he was about a 1km away when he heard the noise.
"I saw a huge flame," he said. "The smoke was pungent. It entered my eyes and I was not able to see for some time."
He said when he moved closer he saw the dead bodies, and it looked like a "brutal graveyard". "It was a terrible moment. [The area] is completely destroyed."
The International Committee of the Red Cross said the use of an ambulance was "harrowing".
Nasrat Rahimi, deputy spokesperson for the Interior Ministry, said the attacker got through a security checkpoint after telling police he was taking a patient to nearby Jamhuriat hospital.
He detonated the bomb at a second checkpoint, said Mr Rahimi.
The BBC's Zia Shahreyar, speaking from the scene, says it is not easy to get through the checkpoints. Cars are searched and drivers' identities checked.
He adds that questions will be asked about how the attacker got through.
This is the deadliest attack in Kabul in several months.
In October, 176 people were killed in bomb attacks across Afghanistan in one week. The country's security forces in particular have suffered heavy casualties at the hands of the Taliban, who want to re-impose their strict version of Islamic law in the country.
In May, 150 people were killed by a suicide bomb attack in Kabul. The Taliban denied any role, but the Afghan government says its affiliate, the Haqqani group, carried it out with support from Pakistan.
Pakistan denies supporting militants that carry out attacks in Afghanistan. This month, the US cut its security aid to Pakistan, saying it had failed to take action against terrorist networks on its soil.