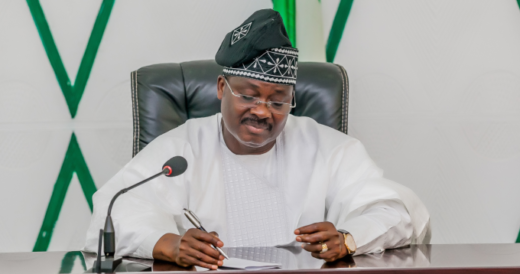 The Oyo State Government and labour unions on Friday resumed negotiations over outstanding salaries owed some categories of workers in the state.
The Nigeria Labour Congress (NLC) in the state had on Wednesday called out workers on a three-day warning strike in solidarity with their colleagues owed arrears of salaries.
Among the demands were the payment of 17 months salary arrears of workers in the state owned tertiary institutions as well as 56-month pension arrears and gratuity of retired primary school teachers.
They also demanded that government should rescind its decision on the sack of 256 members of staff of LAUTECH Teaching Hospital, Ogbomoso.
However, a three-hour meeting held at the conference room of the State Head of Service ended with hope that the lingering impasse would soon be resolved.
Alhaji Waheed Olojede, the State NLC Chairman, told newsmen after the meeting on Friday that the unions met government over lingering issues of industrial interest of workers across the state.
"We have discussed extensively on the issues and negotiation is ongoing. We have demanded from government to look into the issues.
"We are convinced that both parties have a responsibility to sustain industrial peace in the state. We assure our members not to renege from our responsibilities as leaders but continue to promote such," he said.
READ: Gov. Ganduje destroys N1 billion illicit drugs in Kano
Olojede called on workers in the state to resume at their respective duty posts on Jan. 29 as the three-day warning strike ended on Friday.
According to him, "the three-day warning strike we resumed on Wednesday is hereby vacated while negotiation on the tertiary institutions crisis continues on Wednesday, Jan. 31st".
The Secretary to Oyo State Government (SSG), Alhaji Olalekan Alli, said the spirit of understanding demonstrated by the parties at the meeting has revealed that there would be no cause for alarm.
Alli, who stated that the meeting has been adjourned to Jan. 31, assured the people of continued industrial peace in the state.
He expressed optimism that the demands of the labour unions would be looked into and all that required being sorted would be sorted.
"We sincerely believe and are convinced that we will continue with our robust relationship in every situation," the SSG said.