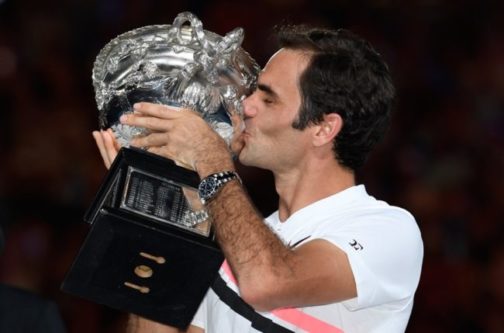 Roger Federer has won his sixth Australian Open Grand Slam title and his 20th overall, defeating sixth seed Marin Cilic in five thrilling sets.
He won eight titles in Wimbledon, five at the U.S. Open and one at the French Open.
The Swiss maestro easily took the first set 6-2 in Melbourne, but lost the second in tie break to the Croatian. Federer took the third set 6-3, only to fluff his 3-2 lead in the fourth set and watch helplessly, amid erratic display and unforced errors, as Cilic took the next four games 6-3.
The defending champion however restored control in the fifth and deciding set, racing to a 4-1 lead. Then he broke Cilic again to have a pivotal 5-1 lead to serve for the championship.
Federer did not make any mistake this time around as he served out the match, winning 6-1, becoming the oldest man, at 36, to win the championship in the Open era.
The match was Federer's 30th Grand Slam final.
The victory gave him a sixth Melbourne crown to put him alongside Novak Djokovic and Roy Emerson in the all-time Australian Open leader list.
He also became the first man to win 20 Grand Slam titles. Only three women — Steffi Graf (22), Serena Williams (23), and Margaret Court (24) — have won more.
By making a seventh final, he has already taken sole ownership of most Melbourne final appearances in history.
Croat Cilic, the sixth seed, overcame Federer on the way to winning the 2014 US Open final, but that was his only victory in ten encounters.
The ice-cool 36-year-old — the oldest man in the final since Ken Rosewall in 1972 — is happy with where he is at.
"I mean, I've won all my matches without dropping a set. Things must be all right if I haven't dropped a set and in the final," he said ahead of the evening match on Rod Laver Arena.
"I'm pleased that my game has been good from the very beginning of the tournament so far."
In Cilic, he has a seasoned opponent who has tasted Grand Slam success before, at the 2014 US Open, beating Kei Nishikori in the final.
He also made the Wimbledon final last year, losing to Federer as he struggled with painful blisters.
In Melbourne, the 29-year-old has had a trailblazing tournament to become the first Croatian man or woman to appear in an Australian Open decider.
"I'm feeling really good physically, even though I had a few matches that went more than three hours," Cilic said.
"I've played a great tournament so far, I'm playing much more aggressive, hitting most of the shots really good."
But he admitted ahead of the match that beating Federer was a very high hurdle.
"When it gets to the semi-finals, finals, he gets better and better and is playing great tennis. So with him it's always a big challenge," he admitted.