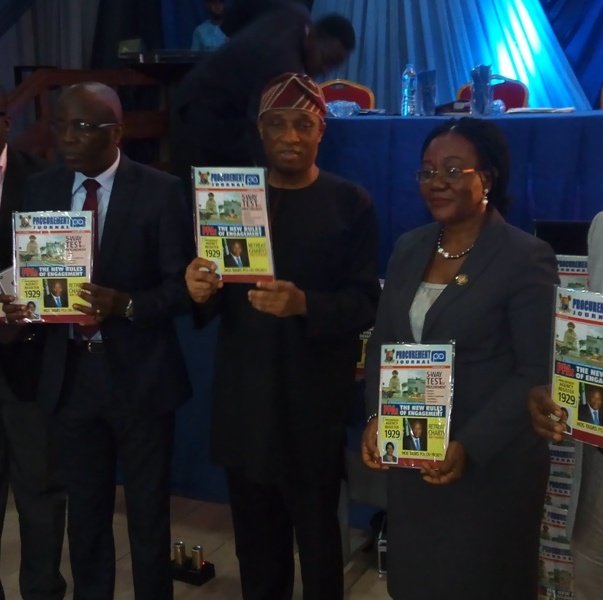 By Kazeem Ugbodaga
The Lagos State Public Procurement Agency, PPA, on Monday disclosed that it approved N320 billion procurement requests in 2017.
This is coming as Governor Akinwunmi Ambode warned officers of the agency that his administration would not condone any act of misappropriation and misapplication of public funds.
Speaking at the Maiden edition of the annual Procurement Summit held at the Lagos Chambers of Commerce and Industry, LCCI, Ikeja, Lagos, Southwest Nigeria, General Manager, PPA, Fatai Onafowote, said that the agency achieved enviable milestone in 2017 with the N320bn projects requests approved for execution.
"Some of the achievements are the processing of over 1,000 requests for approvals of procurement processes valued at over N320 billion and leading to the issuance of approval instruments utilized by the agency.
"Another achievement is the organisation of a procurement planning clinic to ensure that annual procurement activities of MDAs are in line with the Law and Regulations; as well as the issuance of registration and renewal instruments to over 1,900 contractors desirous of doing business with Lagos State," he said.
The General Manager said the agency would intensify its monitoring on all projects to ensure that no government project was abandoned or failed to be delivered at record time.
He stated that the government had been able to bring about transparency and eliminate the perceived corruption inherent in the public procurement through demonstration of professionalism and adoption of global best practice in the procurement.
"The Public procurement as a process involves the inputs of stakeholders; the Lagos State Government and its MDAs, the Public Procurement Agency, Contractors and Suppliers, Non-Governmental Organisation and the general public. The success of any procurement process will require the input of all stakeholders. Indeed the process cannot be or deemed satisfactory unless there is input of all these stakeholders," he said.
Speaking on the theme of the summit entitled: "Ensuring Best Practices in Public Procurement in the Face of Dwindling Economy," Ambode said that there was need for those charged with the responsibility of implementing the procurement law to be more diligent and conversant with the emerging development in the global arena in view of the current economic situation.
The governor described the introduction of the Public Procurement Law as laudable, saying that the law was meant to ensure transparency, accountability, competitiveness in the way and manner public funds were expended in the acquisition of goods and services.
He explained that the summit was designed to gather experts and various stakeholders in public procurement with a view to taking a closer look at the law, as it was being implemented and make recommendations that would ensure greater effectiveness.
"I charged the Lagos State Public Procurement Agency to be steadfast and innovative in the application of the laws and regulations. As you are aware, this administration places high premium on accountability and will therefore not condone any act of misappropriation and misapplication of the public funds," he warned.