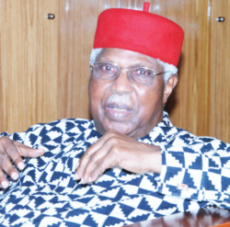 The Vice-President, Prof. Yemi Osinbajo, says the late former Vice-President, Dr Alex Ekueme, was committed to the unity of Nigeria throughout his lifetime.
Osinbajo made the statement during a Parade of Honour for Ekwueme mounted at Nnamdi Azikiwe International Airport, Abuja, on Monday as part of the last respects by the Federal Government for him.
He expressed the hope that the death of Ekwueme would not only encourage Nigerians but cement the relationship among all of the peoples and nationalities in the country.
Osinbajo said: ''when he was asked what his vision were for the country, he said, 'I would want to see Nigeria to be a nation, not just a country.'
"Those words tell us how committed he was to the unity of this country.
''And I pray that in death and as we remember him, this would not only encourage us but also cement the relationship between all of the peoples and nationalities of this country so that we could become and remain one.
"We are reminded of his commitment to timeless ideals of integrity, of loyalty and of kindness to all. We thank the almighty God for giving us 85 years life of Dr Ekwueme.
"We thank the almighty God for his family and all us who he has left behind and we pray that his great wishes for this nation and all that he sacrificed for will not be in vein,'' he said.
Osinbajo later handed over the remains of the late former vice-president to the family, represented by his son, Mr Goodheart Ekwueme, at 12:40 p.m.
The body departed for Enugu in an Air Force plane in company of his family members at 1:30 p.m.
Dr Emma Okeke, the Deputy Governor of Anambra, in an interview, urged current political leaders in Nigeria to learn from the steadfastness and outstanding qualities of Ekwueme.
He described Ekwueme as a man who always stood by what he believed in.
He said that the state government would think of immortalising the late Ekwueme after his burial, adding that the governor would decide that at the appropriate moment.
"Talking about immortalising, that is what the governor would decide when the time is ripe because you can only talk of immortalising after he is being buried.
"What is happening here today is a result of the kind of person Ekwueme was,'' he said.
Dr Chris Ngige, the Minister of Labour and Employment, said Ekwueme was a man who, in spite of his personal achievements, remained focused in his political career without compromise.
Ngige said that the late Ekwueme became the first democratically elected vice-president of Nigeria through resilience and selfless service.
"That shows his resilience but he is a man who doesn't believe in a corrupt system to succeed because he never gave money to delegates and he never gave bribe.
"When he left power, the tribunal that was set up said they found him a poorer man after leaving government than when he came to government.
"And to expect more from him is to expect angels to come down.
"He was my political master and I found him a fit and proper person and a proper politician to learn the trade from and I leant accountability, honesty, fair-play, justice and equity,'' he said.
Also, Chief Jim Nwobodo, a former Gov. of old Anambra, said that the late former vice- president was humble, steadfast, courageous and had interest in Nigeria.
Nwobodo said Ekwueme believed so much in one Nigeria, not as a country, but as a nation which showed his interest for Nigeria.
"I think we should use the honour given to him to see Nigeria as one united nation and not a divided country,'' he said.