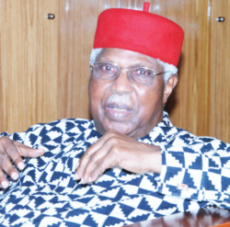 Enugu City centre is currently wearing a new look, following a massive clean-up toward the burial of a former Vice-President, Dr Alex Ekwueme.
Ekwueme died on Nov.19 at a London hospital in the UK.
The presidential committee for the burial had slated a service of songs for the deceased at the Cathedral Church of the Good Shepherd at Independent Layout in Enugu on Jan. 30.
On Jan. 31, there will be South-East Zonal Commendation Ceremony at Okpara Square in Enugu by 0 a.m.
A NAN correspondent covering the burial activities observed that grasses in green areas of the Enugu metropolis have been pruned.
Trees with out-grown trunks and branches have also been trimmed to beautify the Coal City.
Okpara Square has also been re-painted while the lighting facilities have been restored.
The compound of the Good Shepherd Cathedral Church has also been given comprehensive cleaning, ahead of the service of songs for the late political icon.
Meanwhile, the Enugu residence of the former vice-president is already wearing a new look with a total clean-up of facilities.
Buildings within the vicinity of Ekwueme's house had all been repainted to make the area beautiful.
A total of 391 people have signed the condolence register so far.