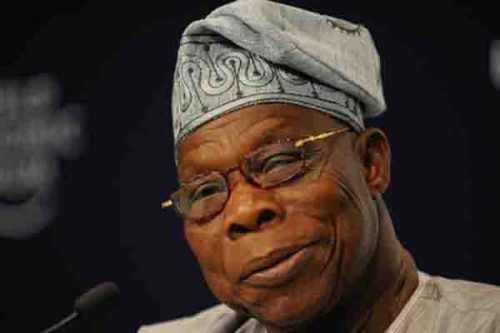 Nigerian Continuity and Progressives for Buhari and Osinbajo, a political pressure group, has urged Nigerians to discountenance recent letter of former President Olusegun Obasanjo to President Muhammadu Buhari.
National Organising Secretary of the group, Mr Amos Yat, made the call at a news conference in Abuja on Monday.
He said that the call by Obasanjo and former Speaker of House of Representatives, Alhaji Ghali Na'Abba against second term ambition of Buhari was in bad faith and should be ignored.
Yat appealed to Nigerians not to be deterred by what people were saying about Buhari but to continue to support him so he could finish the projects he started.
"I respect Obasanjo a lot but I don't subscribe to his letter because this is the time he is supposed to rally support for Buhari to complete what he has started and not to try to make people reject him.
"I also want to appeal to all Nigerians to discard Ghali Na'Abba's opinion about Buhari and support him to move the nation forward because we have been lacking continuity as a nation.
"Buhari is an innovative man who has called all Nigerians to go back to agriculture and make us a productive nation again.
"He is an honest man, who has not more than two houses; he is a clean man so I encourage Nigerians to support him for a second tenure,'' he said.
National Chairman of the group, Alhaji Lawal Ismail, said that Buhari was on course and was delivering on his campaign promises, especially in the aspects of the anti-corruption fight, security and diversification of the economy.
"We are well aware that this administration took off with virtually an empty treasury.
"Against this background, Nigerians today, particularly those in the North-East, are relieved now because of the tremendous achievement recorded on security.
"We make bold to say that this administration in terms of politics and programmes remains focused and before the end of this tenure, the remaining challenges, including herdsmen and farmers clash, will end."
On his part, Mr Gideon Sammani, Senior Special Assistant to the President on Political Matters, said that it was time for Nigerians to support the president again to deliver on the development of the nation.
Sammani said that all those who thought that they could form a stumbling block to the president's second tenure should look at his achievement and change their minds.
He urged Nigerians not to alter the development the president had started because there was no alternative to him.
He said that three people had approach him that they wished to buy nomination form for the president for the 2019 election, adding that if the president had not done well, people would not want him back.