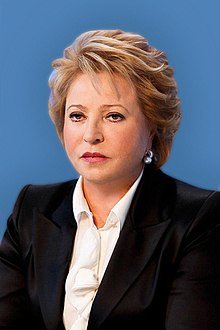 The release of so-called "Kremlin report" by the U. S. is a flagrant interference in Russia's internal affairs, Russian upper house speaker Valentina Matvienko said Tuesday.
Earlier in the day, the U.S. Treasury Department released the list, comprising 114 Russian politicians and 96 businessmen, that may pave way for more anti-Russia sanctions.
The document, however, specifies that it should not be interpreted as a sanctions list.
Matvienko is among senior Russian politicians, included in the report.
"The inclusion of our country's leadership, including the prime minister, in such a list cannot be called otherwise, but a gross interference in the internal affairs of a sovereign state," Matvienko told reporters.
According to the speaker, there was "no logic" in the release of a new list.
At the same time, she noted that the release of the report was an attempt of the United States to interfere in the upcoming Russian presidential election.
"The release of such a list on the eve of presidential elections is certainly a flagrant interference in the electoral process, an attempt to influence the public opinion, destabilize the situation in society, and lower the high level of support for the president," Matvienko said.
He noted that the list could lead to opposite results, including the consolidation of Russian people around the president.
On Monday, Russian presidential spokesman Dmitry Peskov said that Moscow will analyse the report and the actions following the report to ensure its interests and the interests of related Russian companies.
The list was issued in connection with the Countering America's Adversaries Through Sanctions Act.
It names 210 political figures and "oligarchs" as "determined by their closeness to the Russian regime and their net worth".
It also names 114 political figures, including the chief executives of powerful state companies such as natural gas exporter Gazprom and oil major Rosneft, and the heads of the country's top spy agencies.
Prime Minister Dmitry Medvedev is named, as are dozens of members of his cabinet, including Foreign Minister Sergei Lavrov, and more than 40 members of the presidential administration, excluding Putin.
The list of 96 "oligarchs," assessed as having wealth upwards of one billion dollars, includes influential investor Roman Abramovich and industrial magnates Oleg Deripaska and Alexander Abramov.