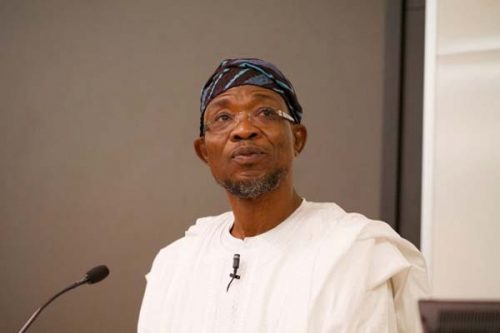 Gov. Rauf Aregbesola of Osun has said that Nigeria must not just exist as a nation but lead the black race in the cause of advancing African renaissance.
The governor said this in Ibadan on Monday at the opening ceremony of a three-day conference held in honour of Prof. Toyin Falola, who clocked 65.
The conference, themed "African Knowledge and Alternative Futures'', attracted prominent Nigerians, traditional rulers, academia and students from Nigeria and diaspora.
Falola is a professor of history whose several works have been published in international journals across the world.
"Nigeria stands as a cardinal element in rallying other Africans together in advancing the cause of African renaissance," he said.
Aregbesola in his paper, entitled "Development, Good Governance and Productivity'', said that the people and government must sustain a support cycle to achieve growth and development.
"The nation is poor and remained poor. This is because the people do not realise that civilisation requires people to support government from their productivity, while government provide infrastructure.
"The challenge of government is not getting able-bodied to engage in productive ventures and earn their living.
"If 50 million able-bodied out of the Nigerian could be engaged productively, the nation would have up to N1.5 trillion circulating in the economy. I bet it Nigeria will become super power in 20 years," he said.
The governor said Ibadan does not reflect hosting a university with the status and calibre of University of Ibadan if not in anything but effective waste management system.
Aregbesola condemned the spate of killings in the country, calling on security agencies to stem the trend.
"Progress and development can only be achieved in a society where there is peace,'' he said.
READ: Group tells Nigerians to disapprove Obasanjo's letter,
Gov. Abiola Ajimobi of Oyo State said that his administration believed in knowledge-driven government and governance as upheld by Falola.
Ajimobi, who was represented by Alhaji Olalekan Alli, the Secretary to the State Government, said that the present administration would continue to place priority on knowledge-driven governance.
The Alaafin of Oyo, Oba Lamidi Adeyemi, urged Africans to lead a revolution aimed at strengthening knowledge acquisition, its dissemination and utilisation.
The monarch, who took the audience through pre and post-colonial history, said the Old Oyo Empire reigned for 600 years and longer than any other empire in Africa.
He stated that the present situation in Nigeria called for reflections and concerted efforts towards overcoming the challenges.
On his part, the Orangun of Oke-Ila, Oba Adedokun Abolarin, said the essence of education was to serve others in achieving intellectual development.
He stressed the importance of traditional institutions, adding the institution must develop the Yoruba race.
"The trajectory of Falola's life showed that people have lot to do in achieving greatness," he said.
Aregbesola, Ajimobi, Adeyemi and Abolarin in their separate speeches described Falola as a prolific and profound author cum Africanist.
The event was chaired by Mr Jide Owoeye, Proprietor, Lead City University, while Prof. CBN Ogbogbo and Prof. Gloria Emeagwali delivered the keynote addresses.
Other dons present were Prof. Emilolorun Aiyelari, UI DVC (Admin); Prof. Emeritus Femi Osofisan, Prof. Tam David-West, Amb. Olu Saanu, Prof. Femi Mimiko, and Dr Tunji Olaopa.

Load more