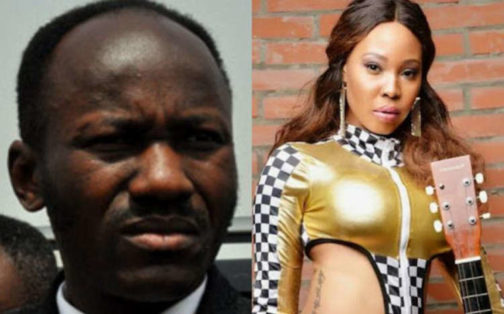 Canada-based strip club singer Stephanie Otobo, who accused Apostle Johnson Suleman of Omega Fire Ministries of having a sexual relationship with her, says she will name her sponsors who gave her money to blackmail the apostle.
Otobo had on Saturday in Suleiman's church in Auchi Edo State confessed that she lied against the pastor and sought for forgiveness.
In an exclusive interview with Vanguard in her Lagos hideout, Miss Otobo said, "I was not lured, kidnapped, forced or paid to confess. I confessed for my own peace of mind and my wellbeing as a human being."
When prodded further, Otobo said, "How much can the Apostle pay me that will match what I was paid, and I am still being offered more, by my sponsors?
Asked what prompted her sudden desire for "peace of mind", Miss Otobo said she has had sleepless nights for several months over the role she played over the alleged sex scandal.
She also accused her alleged sponsors of blackmail, stating that they are circulating a video made in June 2017 in the Canada home of a certain Chidi, the guy she claimed was responsible for most of her videos last year, to discredit her.
Otobo said the well-rehearsed video was made as an insurance tool against her in the likely event that she ever exposed the plot by her manipulators.
According to her, "That video was made in June, 2017 and it was made by my manipulators so that they would have something against me in case I ever told the truth."
The Urhobo-born musician also expressed fears about her security as she vowed to unmask her manipulators in court rather than on social media.
"For those of you asking me to mention names, sure, I will mention names in court because they have been sending emails and texts offering me a lot of money but I cannot be manipulated anymore."
Recall that in 2017, Otobo alleged that she was in a sexual relationship with Apostle Suleman
In a twist to the story she had maintained since March last year, she said she was paid to lie, opening herself to the risk of being convicted for blackmailing Suleman.
The singer in a trending video said she was approached and paid by politicians and some pastors to blackmail Apostle Suleman.
She said during a church programme in Auchi she fell for their bait because she wanted to further her career.
Otobo made the disclosure before Suleiman's church congregation in Auchi, Edo state on Saturday.
"I was made to tell too many lies, I was choking. The burden of guilt was too much for me to carry. If I did not correct this grave sin, I would never have obtained the forgiveness of the body of Christ and even in the life hereafter", she said