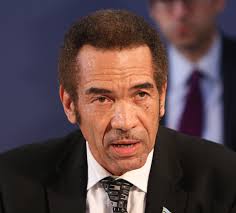 Botswana's public advocate has cleared President Seretse Khama of any wrongdoing on alleged maladministration and abuse of office by opposition party, Botswana Congress Party (BCP).
The Ombudsman on Wednesday dismissed BCP's complaints that Khama used public resources to build his Mosu private home.
Mosu is a village in Central District of Botswana, located to the south of Sua Pan, the eastern half of Makgadikgadi Pan.
BCP had protested to Ombudsman that Khama used Botswana Defence Force (BDF) resources, personnel and equipment to build an airstrip on his private property, structures and water connections.
Augustine Makgonatsotlhe, the Ombudsman said the allegations on construction of the buildings and water connection on the president's plot lack merit and are not supported by any evidence.
"All in all, the Ombudsman found no evidence of maladministration on the part of the president," said Makgonatsotlhe.
He said that various government ministries and departments-Ministry of Transport and Communications, Water Utilities Corporation and Civil Aviation Authority of Botswana were interviewed ahead of the ruling.
Makgonatsotlhe said the airstrip still belonged to the president but was fenced and is being maintained by the CAAB at a cost to the nation.
The high profile matter was reported to the office of the Ombudsman under a report titled: President Khama's Alleged Abuse of Office and Public Funds and Resources.
Ombudsman however notes with concern that BCP seem to abuse the process of the public advocate.
"In analysing the Mosu Case and referring to previous reports on matters brought to our Office by the Botswana Congress Party, we have observed that all complaints lodged by the party precede general elections," said Makgonatsotlhe.
He observed that BCP launched the aircraft case against President Khama at the time he was Vice President on
Sept. 15, 1999, about a month before the 1999 elections, lodged allegations of abuse of State media on or just before 2009 general elections.
He also observed that the BCP brought allegations about abuse of public office and resources by the President on Sept. 15, 2014, a little over a month before the 2014 general elections.