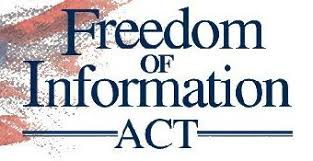 The Federal Ministry of Justice says that it will soon provide a step by step guide for Nigerians to know how to seek for information through the Freedom of Information Act (FOIA) .
Mr Benjamin Okolo, the Head, Freedom of Information Unit, made this known at the fourth Discussion Series on "Citizens Participation in the Anti-corruption Fight; the role of Lawyers'' in Abuja on Wednesday.
Okolo said that the step was being considered by the ministry in order to allow Nigerians access information and start questioning people in positions of authority, projects being done or anything they need more clarity on.
He said that FOIA established the right to access public information to all race, gender, age, and nationality, notwithstanding anything contained in any other Act, law or regulation.
According to him, the underlying philosophy is that public officers are custodian of public trust on behalf of a population that has the right to know what they do.
He said that it mandated them to make public records and information more freely access to established exemptions, as well as encourage shift from secrecy in conduct of government affairs to openness.
"The FOIA is the second important law in Nigeria because it is a rights law, so citizens need to stay awake with the law and utilise it well.
"Nigerians need to start using the law to demand for explanations from Ministries, Departments and Agencies (MDAs), when we begin to do that, they will sit up.
"FOIA is a foundation for open government as it helps in the fight against corruption, strive where there is corruption.
"Any person can access any information or record in custody of any Public Institutions and private Institutions utilising public funds, performing public functions and providing public services subject to clearly defined exceptions.
"Any person is entitled to request and receive information within seven days.''
According to Okolo, there is the need for Nigerians to become more serious with the anti-corruption fight because the FOIA is a good weapon they can use to ensure the protection of their local environment.
He said that through adequate information, they would be enabled to advocate against projects and programmes that affected them negatively or were abandoned.
Okolo added that communities and citizens could also access information that would enable them determine whether or not they received value for money for public works projects and investments or not.
Earlier, Mr Ezenwa Nwagwu, one of the conveners of the "Say No Campaign'', an NGO said that though the government had tried to fight corruption by amending laws and establishing agencies, corruption was still ongoing.
"In practice, government efforts has neither improved performance nor minimised corruption and have not also met or increased citizens' satisfaction with service delivery from states or private institutions.
"Many people have argued that this is largely due to lack of citizens' engagement in the process of conceptualisation and design of solutions meant to address the root causes of corruption.
"The truth is, this lack of popular input need to be tackled.''
Nwagwu said that involving citizens in government by participating in governance activity in their states leads to appreciation level of social trust.