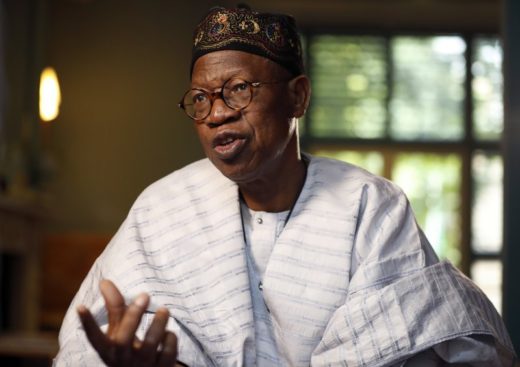 The Federal Government has reiterated its commitment to ensuring that the safety and freedom of the media professionals are not compromised in any way.
The Minister of Information and Culture, Alhaji Lai Mohammed gave the reassurance on Tuesday in Abuja at the opening of a two-day training workshop for the media and stakeholders on "Conflict-Sensitive Reporting and Safety of Journalists''.
The workshop was organised by the Ministry of Information and Culture in collaboration with the United Nations Organisation for Education, Science and Culture (UNESCO).
The minister, who was represented at the event by Mrs Oluseyi Abegunde, a Director in the Ministry, said that the government had taken proactive steps to walk its talks.
Specifically, he said government had responded to inquiries of organisations like UNESCO, among other global agencies,on cases pertaining to acts of violence against journalists.
The minister said that the government also upheld the objectives and principles enshrined in the Abuja Declaration of 2007 by Federation of African Journalists on coordinating actions to improve the safety and security of journalists.
He noted that sustaining and nurturing democracy in any country required the existence of a professional mass media.
Mohammed, however, reminded the media that the right to press freedom must come with duties and responsibilities including operating within the confines of the law and respect for rights and dignity of others.
The minister, who acknowledged the deteriorating working conditions of the media, said that measures must be taken to address the trend.
He appreciated UNESCO for the assistance and partnership toward the successful hosting of the event.
The Special Adviser to the President on Media and Publicity, Mr Femi Adesina underscored the need for journalists to discharge their duties with responsibility.
He specifically advised against journalists being used by politicians to fan embers of hatred, disunity and disintegration.
The National President of Nigerian Union of Journalists (NUJ), Mr Waheed Odusile, said the media must wake up to the challenge of hate speech tearing apart the fabric of the nation.
He also called on journalists not to create event but report and respect facts, while newsmakers must be mindful of their utterances.