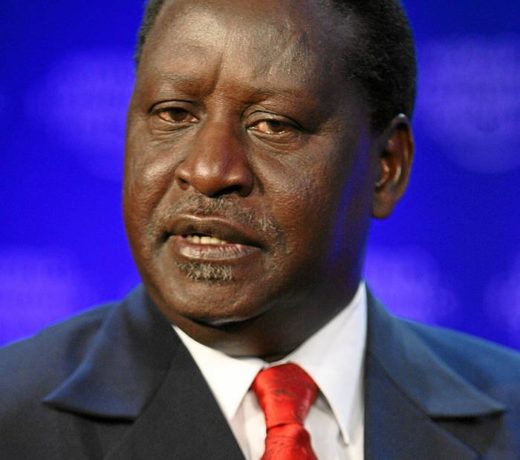 Kenyan police arrested an opposition lawmaker who administered the oath during a symbolic "swearing in" of opposition leader Raila Odinga on Tuesday, an opposition senator said on Wednesday.
"He has been arrested and taken to Nairobi area police headquarters," James Orengo told Reuters.
Earlier, the government launched investigations into the swearing-in ceremony of opposition leader Raila Odinga on Tuesday.
Fred Matiang'i, Cabinet Secretary in the Ministry of Interior and Coordination of National Government, told a media briefing in Nairobi that the investigations will extend to conspirators and facilitators of the event.
"Upon completion of these investigations, appropriate legal action will be taken in accordance with the laws of Kenya.
"The government will prefer appropriate administrative measures on a need by need basis," Matiang'i said.
His remarks came after the police arrested opposition legislator Tom Kajwang who swore in Odinga at a largely peaceful ceremony which was attended by thousands of opposition supporters.
Kajwang, a two-time lawmaker for a constituency in Nairobi and a lawyer, was arrested by police officers and taken to Directorate of Criminal Investigations (DCI) for grilling.
Matiang'i said what was witnessed at Uhuru Park on Tuesday was a well-choreographed attempt to subvert or overthrow the legally constituted government of Kenya.
He added that the government was and is aware of the role of some elements in the media fraternity who participated in furtherance of the illegal swearing in act.
"Their complicity would have led to thousands of deaths of innocent Kenyans due to the buildup of the incitement that was witnessed in the early hours of the morning of Tuesday," he added.
According to the government official, media owners and all relevant actors had been given a full security situation brief well ahead of the illegal activities of the National Super Alliance.
"Unfortunately, some media houses chose to disregard this advice, their own code of ethics, self-regulation and the moral responsibility of every Kenyan to safeguard the security of their fellow citizens," Matiang'i said.
He said three television stations will remain off air until the government has completed investigations into the "swearing-in" of Odinga.
"As a result of what happened yesterday (Tuesday), we have commenced investigations targeting individuals. Media houses will remain closed until we complete investigations," he said.
The broadcasting signals of NTV, KTN and Citizen were switched off Tuesday, but Kenyans watched the live coverage on social media and international TV channels.

Load more