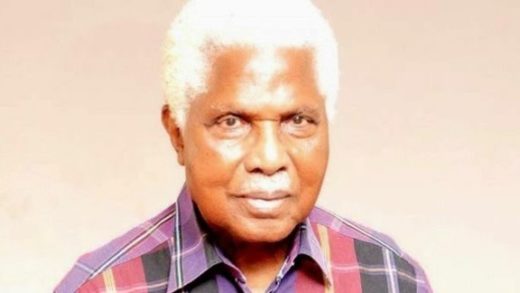 Ahead of the burial of former Vice President Alex Ekwueme on Friday, rehabilitation works have intensified at three major locations in Oko, his hometown.
Ekwueme died in a London hospital on Nov. 19, aged 85.
A correspondent of NAN visited Oko in Orumba North Local Government Area of Anambra on Wednesday, to assess preparations for the burial of the late elder statesman.
He reports that workers were engaged in diverse activities at Ekwueme's compound, St. John the Divine Anglican Church, Oko, the venue for the funeral service, and Federal Polytechnic, Oko, where visitors will be entertained.
At his compound in Ezioko village, workers were seen re-painting buildings and fence, setting up tents and decorating the premises in national colours.
Tilers were also seen working at the tomb site located in front of his house.
Speaking with NAN, Mr Ogochukwu Ekwueme, the seventh son of the deceased, said that the family was working under intense pressure to put everything in place before Friday.
"We have less than 72 hours to the Friday burial of my father and we are battling to put everything in place.
"As you can see, work is in progress in and around our compound.
"Those mounting tents where our visitors will sit are working; the tilers at the tomb side are also working while decorations and re-painting are all in progress.
"In the church, we have more than 20 men re-painting the church and people doing other works.
"We have provided electricity for them to even work at night to make sure they have everything in place before Feb. 2, 2018.''
Ogochukwu further said that the Ekwueme family was happy with the role of the Federal and Anambra State Governments to give a befitting burial to the late elder statesman.
Reacting to the ongoing work at the church, the Archdeacon in-charge, Ven. (Dr) David Okparaononuju said that he was pleased with the repainting of the church ahead of Ekwueme's burial.
Okparaononuju said that the ongoing work being undertaken by an indigene of the community and the state government, was a good gesture to the church and "we will remain grateful to them.''
However, he said that the church was in pain because "our benefactor is no more.''
The presence of security personnel guarding the three locations as workers intensify efforts to meet set deadlines.
Meanwhile, the Amawbia, Agulu/Nanka/Oko road which links Awka to also undergoing rehabilitation to enable motorists attending the burial to have a smooth ride to Oko.