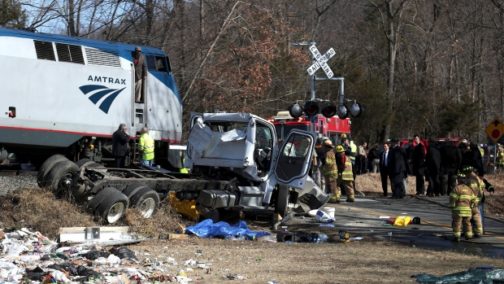 A chartered train carrying Republican lawmakers to a retreat collided with a trash truck Wednesday morning and left at least one person dead.
White House Press Secretary Sarah Huckabee Sanders said there was one confirmed fatality and one person seriously injured.
"There are no serious injuries among members of Congress or their staff," she said in a statement.
The victim's identity was not immediately released.
The train was carrying House and Senate Republicans to the retreat in West Virginia when it hit the truck.
"We were on our way to West Virginia and it was a sudden impact, a loud noise and everyone was jolted," Rep. Carlos Curbelo, of Florida, said on MSNBC.
Rep. Jason Lewis of Minnesota was taken to an area hospital for a reported concussion, but did not sustain a serious injury, according to a senior leadership source on the train.
A statement from Amtrak said the crash happened at 11:20 a.m. in Crozet, Virginia.
"Local law enforcement is investigating the incident and crews are inspecting equipment for damage. The train originated in Washington, D.C. Updates will be provided as new information becomes available," the statement said.
The National Transportation Safety Board said it was sending a Go-Team to the scene of the accident.
Arizona Sen. Jeff Flake described feeling a "big impact" during the crash and then making his way to help one of the injured. He had been traveling with his wife and 18-year-old son in one of the front cars of the train.
"I knew there were going to be bad injuries, so I worked my way back thinking they might need people to help carry people to ambulances, and they did," he said, calling the accident a "terrible scene."
Flake said he saw there was one fatality, "who they worked on for quite a while while I was there and we were tending to the other injured person."
Louisiana Sen. Bill Cassidy and Ohio Rep. Brad Wenstrup, both physicians, were among others who helped the injured, Flake said.
Flake said the front car of the train derailed during the crash and that the impact "smashed the truck pretty badly."
Rep. Pete Sessions, R-Texas, who was traveling with his wife, described the accident scene as "a mess," with trash strewn up to 80 yards away.
"The truck is completely smashed," Sessions told MSNBC.
Capitol Police Director Eva Malecki said in a statement that "Congressional officials, including the United States Capitol Police, are on the scene and are working closely with partner law enforcement agencies in response to the incident."
Several lawmakers tweeted about the incident and said they were uninjured.
"Our train heading to the GOP Retreat in West Virginia has been involved in an accident," tweeted Sen. James Lankford, of Oklahoma. "I am safe but first responders are treating minor injuries on the train & treating the truck drivers."
A post on Rep. Roger Marshall's Twitter account said the "train hit a garbage truck, they're asking for doctors on the trains to help."
"Right now Dr. Marshall is helping people who are injured," the tweet said of the Kansas lawmaker.
Marshall's Twitter account later posted that the lawmaker performed CPR "on train conductor, and helped the two people in the garbage truck who are now in the ambulance. They are injured badly."
Marshall later told MSNBC that he first tried to help the deceased victim, whom he said had suffered "major head trauma, internal trauma — it's just too gruesome to even talk about."
House Speaker Paul Ryan was on the train but was not injured, a source told NBC News. Senate Majority Leader Mitch McConnell was not on the train, a spokesperson said.
President Donald Trump spoke to and received an update on the incident from Ryan, and is continuing to be updated on the situation, press secretary Sanders said.
Vice President Mike Pence tweeted that he was also getting regular updates on the crash.
"Praying for all involved & grateful for the swift action of first responders," he said.
Pence is scheduled to address the retreat dinner Wednesday evening. As of now, there are no changes to that plan, a White House official said.
Load more