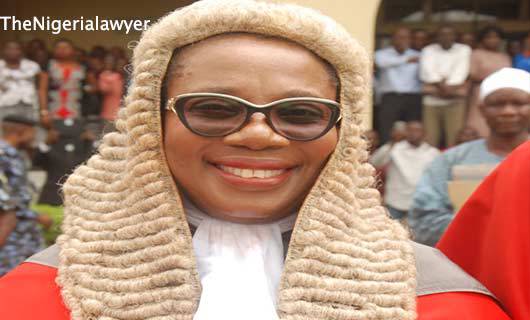 By Kazeem Ugbodaga
Lagos State Chief Judge, CJ, Opeyemi Oke on Thursday disclosed that there are over 500 cases of financial crime pending before the Lagos State High Court.
The CJ disclosed this at the commissioning of the Special and Sexual Offences Courts in Lagos, adding that there were also 600 were on sexual offences, especially on rape and defilement cases at the Lagos High Court.
She said the bulk of the 600 defilement and rape cases and the 500 financial crime cases had been assigned to the Special Offences Courts
According to her, the Lagos State Judiciary, in fulfillment of the Chief Justice of the Federation's directive on fight against corruption, designated four courts as special offences to hear only corruption and financial crime cases in the state.
"We believe strongly that the special court shall fast track the trial of these types of cases and encourage the Economic and Financial Crimes Commission, EFCC, and other relevant bodies, to expedite investigation and prosecution of such cases.
"Presently, there are over 500 cases of financial crimes pending before the High Court, the bulk of which have been assigned to the special offences court.
"However, the number of reported sexual offences cases in Lagos State has increased significantly. At present, there are about 600 pending sexual offences cases in the High Court and these do not include those filed in the magistrate courts.
"Although there are legislative instrument in our law books to combat the menace of domestic and sexual violence, they have become almost ineffective in curbing the rising tide of sexual assault.
"This is because many of the incidents are not reported by the victims nor do they seek redress for fear of reprisal attacks or stigmatization. Thus, many of the victims suffer in silence, traumatized and left to cope with emotional and psychological scars," she said.