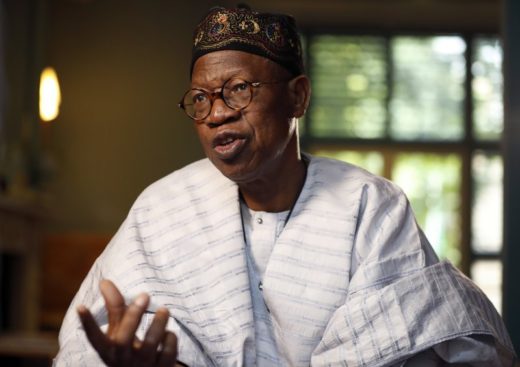 The Minister of Information and Culture, Alhaji Lai Mohammed says that with the right policies of government and favourable economy indices, Nigeria has become an investors destination.
The Minister said this in Abuja on Thursday when he received a delegation of prospective Chinese investors in TV production and animation films.
The delegation was led by Mr Chen Huanan, the Director of Culture and Tradition in the Ministry of Culture, Peoples Republic of China.
Mohammed said with the right policies put in place by government on Ease of Doing Business and favourable business environment, Nigeria, no doubt was an investors' haven.
According to him, with a population of almost 200 million, 60 per cent of which are under the age of 17, there is enormous opportunity available for the animation industry.
READ: Oil price rise as OPEC reaffirm commitment to supply cuts
"We want to assure you that you have come to the right country because not only do we have the population, we have the educated class, the skill and millions of young people who are enthusiastic to embrace the programme.
"We have one of the most resourceful and young population in the world and they are enthusiastic to embrace the technology and turn it into something you may not recognise.
"The business environment is one of the best you can get, you will get the support of the government and you can be sure of return on your investment.
"If you come to partner with Nigeria, in few months you will be pleasantly surprised of the kind of progress you will make,'' he said.
The minister noted that animation film was presently the fastest growing genre in the film industry and unknown to many people, its most rudimentary form took root from Nigeria several decades back.
"We have in Nigeria abundant talents both in terms of people and contents.
"What we need is a meaningful partnership between your country and Nigeria to develop our animation technology and culture to a level that will be another vehicle through which we can promote our diverse culture,'' he said.
The minister, however, stressed that the partnership must be to encourage young and talented Nigerians to embrace animation films while expected productions should reflect culture of the people.
" The contents of any expected production, for it to be meaningful to us and the younger one must be rooted in the diverse culture and history of our people.
"We have the content, the story, what we need is the technology. We want to partner with you in a way that will encourage very young and talented artists,'' he said.
Earlier, Huanan said that Nigeria and China had built a strong relation in cultural exchange among other areas.
He said his team comprised of leading Chinese investors who were ready to promote and invest in the animation industry in Nigeria.