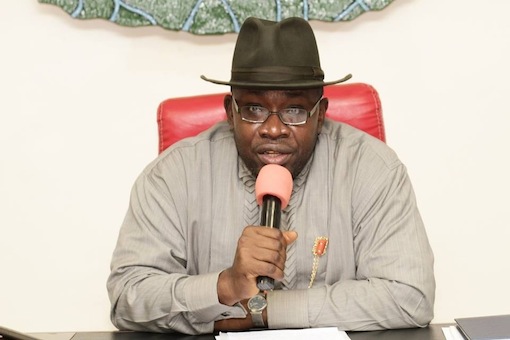 The Bayelsa Government says that the ongoing reforms at the local government tier have reduced the monthly wage bill of the eight council areas in the state by N300 million.
Dr Agatha Goma, the Commissioner for Local Government Administration, stated this on Friday at the ongoing inter-ministerial briefing to mark the sixth anniversary of the Seriake Dickson administration.
She noted that the current administration had introduced fiscal discipline and set up procedures on prudent management of public funds at the local government level in the state.
The commissioner said the reforms were tackling wastage in the system and would be pursued to a logical conclusion
Ministries, Departments and Agencies in Bayelsa had been taking turns to showcase their scorecards as part of the six years anniversary of the present administration,
Goma observed that lack of supervision of the local government system had resulted in the uncontrolled recruitment of personnel without an audit leading to over bloated wage bill.
She said the dwindling allocation to the local government tier during the economic recession caused a distress in the system, resulting in insufficient funds to pay workers salary.
"We got into office and discovered that the wage bill of the local governments across the state was in excess of N1.4 billion at such a time that the total revenue that accruing to the councils was about N600 million.
"We took steps to check the excesses, which is yielding results.
"As at December 2015, the wage bill dropped from over N1.4 billion to N1.38 billion; in April 2016, it further dropped to N1.22 billion and currently it stands at N1.18 billion.
"We have changed the narrative such that the funds freed are being channelled to development at the grassroots and today there are numerous ambitious projects dotted across the state undertaken by the local governments," Goma said.
She also said that the Bayelsa Fire Service supervised by her ministry performed optimally due to the upgrading of facilities and provision of firefighting equipment and training of 34 firemen.
According to her, property valued at about N500 million was lost to fire incidents in 2017 while the fire service responded to 45 distress calls.

Load more