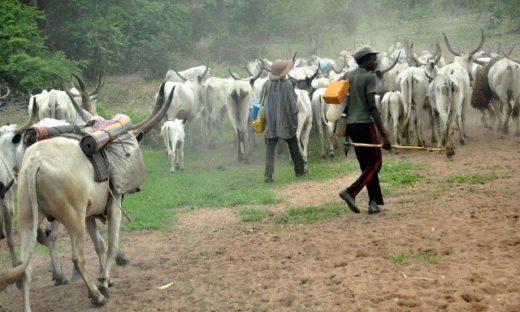 The Ogun Assembly on Friday urged security agencies to ensure  proper surveillance on  the activities of  herdsmen, particularly those said to be moving toward  Opeji, Adatan and other parts of Abeokuta.
The Speaker of the House, Mr Suraj Adekunbi, made the plea at plenary while responding to  submissions made by members of the house  under personal explanations on the activities of herdsmen in the state.
Adekunbi said  security was one of the major priorities  of the  administration in the state, warning that  nothing must be  allowed to undermine the security of the state.
He said that all agencies saddled with the responsibility of maintaining peace and tranquillity  needed to be on alert to nip any criminal activity in the bud.
Earlier , Mrs Yetunde Sogbein-Adekanbi (APC – Odeda), had said the presence of herdsmen was initially felt in Baale village, adding that they later  migrated and settled at Akingbade village in Alabata ward.
READ: Psychologist advises parents to seek help over Child eating disorder
She added that the development had created fear and anxiety among the people.
In another development, Mr Wale Alausa, the Minority Leader, had lauded the  Ibikunle Amosun-led administration for rehabilitating  the Adeola Odutola road in Ijebu Ode.
Alausa (PDP – Ijebu Ode), however,  pleaded with the government to ensure rehabilitation of more roads in the constituency.
The lawmaker, who spoke under  personal explanation,  commended  the administration's infrastructural drive, especially on road construction and rehabilitation.
He added that the  massive investment in infrastructural development had improved the socio-economic development of the state.
The lawmaker also requested the  rehabilitation of the Ijagun-Odogbolu road to ease human and vehicular movement.

Load more