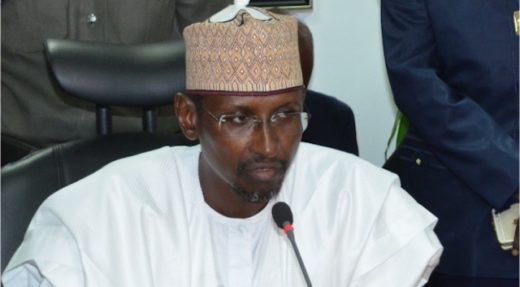 The FCT Minister, Malam Muhammad Bello, has called on heads of agencies in the FCT to be more proactive to their duties and not always wait for directives from the minister.
Bello made the call while receiving a report from the Special Ministerial Taskforce set up to address the perennial traffic gridlock and other environmental challenges along the Abuja-Nyanya-Karu-Jikwoyi-Karshi road on Friday in Abuja.
The minister lamented that the problems bedevilling governments over the years had been those of institutional failure.
He stressed that if these institutions had done their jobs well, there would not have been need for taskforces in the first instance.
According to him, it is very important for us to ensure that the relevant departments saddled with the responsibilities sit together, look at their mandates and do their work effectively.
"These communities are your citizens; they are in your localities.
"Your main duty is to provide a good environment for the people to be healthy and for an environment that all of us should be proud of," he said.
Bello assured that the administration would look very closely at the report to find a way forward.
The minister, however, expressed concern that if the great job done by the committee was not sustained the area would return to its days of decay.
Earlier, when submitting the report, the Committee Chairman, retired Maj. Gen. Emmanuel Nienge called for more security presence along Nynaya/Jikwoyi-Karshi axis.
He said this against the backdrop of efforts by government to root out criminals on the Bwari/Kaduna route into the city.
READ: Legal education "too weak" to meed modern standards, Council says
According to him, the route now being patrolled by the military is likely to leave Nynaya/Jikwoyi-Karshi axis vulnerable to the criminals being chased out from that axis.
"We pray that constant security presence is maintained in that area which is strategically important to the FCT, considering its position as the gateway to the city that has a very large population.
"The road from Bwari to Kaduna, the military are patrolling there more. So, there is tendency that most of these criminals will now divert their attention to this other side. I think we should take that route more seriously,'' he said.
Nienge also called for synergy among the various governments institutions under the FCTA to work toward achieving the same goal.
"It is only through the synergy that government could surmount the environmental and traffic challenges that have bedevilled the city,'' he added.
While thanking the minister for the opportunity to serve the committee, he called on the FCTA to look closer at the activities of the various transport unions and organisations in the territory.
The committee chairman said monitoring the unions would ensure that they do not arrogate to themselves powers that they do not possess under the law.

Load more