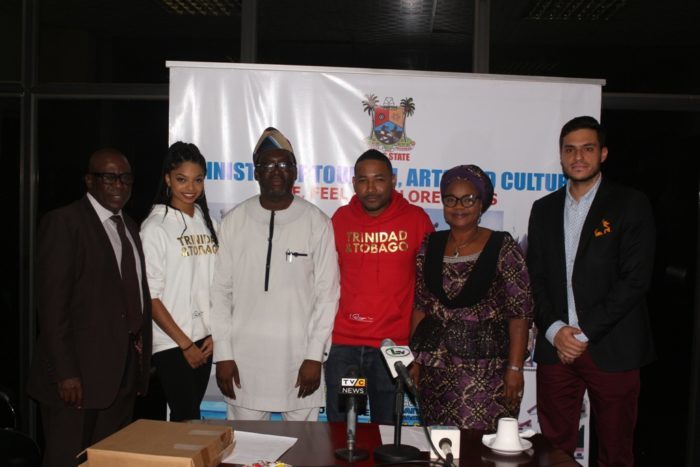 A 10-man delegation from the Republic of Trinidad and Tobago is set to explore the tourism benefits of Lagos through a cultural exchange process and other initiatives that will benefit Lagos and Trinidad and Tobago.
This was disclosed by the leader of the team on Thursday, during a courtesy visit to the management of the Lagos State Ministry of Tourism, Arts and Culture at Alausa, Ikeja.
The team led by Mr. Kyle Lequay is in Lagos for the 2018 WAZOBIA FM Carnival, which will feature Soul Calypso (SOCA), a popular genre of music performed in Trinidad and Tobago and for a Cultural Exchange with Nigeria.
According to Mr. Kyle Lequay, the visit is an initiative to enhance carnival product and culture exchange across borders as tourism business has become a big global business. He said unity in the sector is about accepting diversity in cultural heritage and potentials of countries.
While welcoming the group, the Commissioner for Tourism, Arts and Culture Mr. Steve Ayorinde said the Ministry is the Cultural mouth piece of the Lagos State Government and tourism is the heart beat of His Excellency, Mr. Akinwunmi Ambode, the Governor of Lagos State, who has ventilated his desire to make the State the tourism hub of Nigeria and one of the top five tourism destinations in Africa.
Speaking further, the Commissioner reiterated the support the State has given to the entertainment industry to promote genres such as Fela Anikulapo's Afrobeat brand of music which has gone beyond borders just as the Calpso music. He said the Lagos Marathon race is a component of tourism to showcase Lagos State as the most tourism friendly city in Nigeria.
He informed the team that the Muri Okunola Park, the venue for the WAZOBIA FM Carnival will soon be transformed into a befitting arts arena with series of arts and entertainment events. The State according to the Commissioner will support this with the construction of Arts Theaters across the State.
Ayorinde informed the visiting Trinidad and Tobago nationals that formulation of the Lagos State tourism master plan is already at advance stage and will be fashioned to harness the socio- economic benefit of tourism for the State and make it private sector driven.
The tourist were accompanied to the Ministry by Mr. Serge Noujaim the Chief Executive of WAZOBIA FM, and were received by the management of the Ministry which include the Mrs Aramide Giwanson, the Special Adviser to the Governor on Arts and Culture, Mr. Fola Adeyemi, the Permanent Secretary, Ministry of Tourism, Arts and Culture and heads of agencies, departments and units in the ministry.

Load more