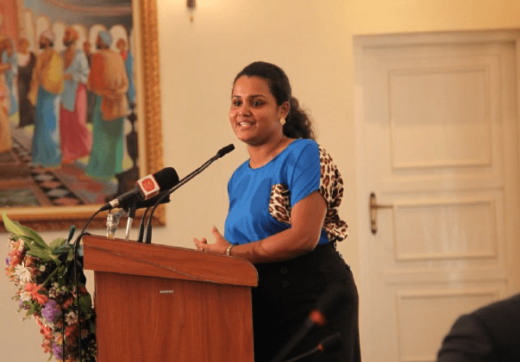 UN Secretary-General Envoy on Youth, Jayathma Wickramanayake, would travel to Nigeria, Senegal, The Gambia, Ghana and South Africa over the weekend.
The Spokesperson for the UN Secretary-General Stephane Dujarric said Wickramanayake would meet with young people and learn about the opportunities and challenges they are facing in their countries.
He said this would be first visit of Wickramanayake to the continent as the Youth Envoy.
The Economic and Social Council Youth Forum opened this week in New York under the theme "The role of youth in building sustainable and resilient rural and urban communities".
Youth leaders from across the globe led discussions with government officials, civil society and other stakeholders on policy frameworks and innovative initiatives to advance the Sustainable Development Goals (SDGs).
The tasked world leaders to open up the political space to accommodate the young people in the decision making, saying youth are leaders of today, not just tomorrow.
READ: President Zuma meets ANC top 6 `over his future'
During the opening, Wickramanayake, praised the level of engagement that youth today are having with the SDGs and encouraged them to take ownership of the Agenda 2030 in their own countries to ensure its success.
The forum discussed ways to bring young people closer to the UN as well as the UN closer to where young people are.
The youth envoy stressed that the importance of youth engagement by Member States in their national plans to implement the SDGs.
Wickramanayake said: "We talk about leaving no one behind but if we don't keep up with that phase, young people will leave the UN behind".
The UN identified working with and for young people as one of its top priorities  and appointed Ahmad Alhendawi as the first-ever Envoy on Youth in 2013.
The Envoy on Youth is mandated with the task of bringing the voices of young people to the UN system.
The role of the Envoy on Youth is also described by the UN Secretary-General as a "harmoniser between all UN agencies"bringing them together to explore cooperation opportunities for working with and for young people.