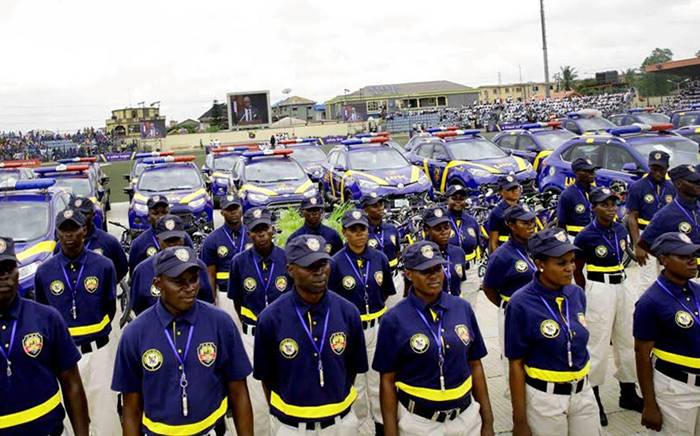 Lagos State Governor, Mr. Akinwumi Ambode has mandated the Lagos Neighbourhood Safety Corps (LNSC) to work in synergy with Lagos State Environmental Sanitation Corps (LAGESC) to arrest anyone caught constituting environmental nuisance in any part of the State.
The Board Chairman, LNSA, DIG Israel Ajao (Rtd) made this known at the headquarters of the agency at Bolade, Oshodi, Lagos, Southwest Nigeria.
According to him, the order would make it easier for perpetrators of these acts to be apprehended since the activities of the LNSC was now visible in all neighbourhood and communities in the five divisions of the State.
Ajao said that with the executive directive, LNSC now have additional responsibility to police all nooks and crannies of the state to curb indiscriminate dumping of waste and other acts detrimental to Cleaner Lagos Initiatives, CLI.
"As you all know that concerted efforts are on-going to clear the heaps of refuse across the metropolis to allow the restructuring and reform in the introduction of Cleaner Lagos Initiative, this additional responsibility given to LSNC will help the realisation of the vision of the State government for the environment"
"Let me however assure Lagosians that our intention is not to harass anyone because the policy of this administration is centred on the people but we need the cooperation of all to achieve a cleaner and healthier Lagos, therefore only defaulters will be arrested and handed over to LAGESC for prosecutions." the chairman said.
He called for support of the residents for the new initiative and also urged the residents of the State to team up with Lagos State Environmental Sanitation Corps (LAGESC) and Lagos Neighborhood Safety Corps (LNSC) for Lagos State Government to achieve the overall objective to deliver a clean, hygienic and sustainable environment.

Load more