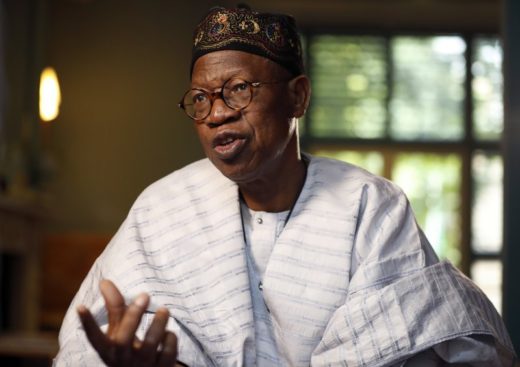 The Minister of Information, Lai Mohammed, said on Saturday that the Federal Government was fully focused on the creation of new jobs in all sectors of the economy.
He gave the assurance in Port Harcourt at the sixth graduation ceremony of 100 male and female entrepreneurs.
The graduates were trained by the Empowerment Support Initiative (ESI) and the Niger Delta Development Commission (NDDC).
He said that President Muhammadu Buhari-led Federal Government had added millions of new jobs to the economy since the administration took office in 2015.
"Before this government came into power; the nation had 5 million rice growers but today 12.2 million rice growers have been added.
"That is an extra of more than 7 million jobs in the Agric sector alone, and this was collaborated by the Chairman of the Rice Growers Association a few days ago.
"Also, 200,000 jobs have been created directly by the N-Power programme while 12,000 jobs would be created in the second phase of the programme.
"Similarly, another 500,000 direct and indirect jobs have been created while the school feeding programme has created 61,000 jobs just for schools," he said.
Mohammed, however, said that job creation should not be the responsibility of government alone but that of well-meaning individuals, Non-Governmental Organizations and corporate bodies.
He described the ESI/NDDC entrepreneurship and skill acquisition programme as a well-thought initiative that conformed to government's drive to generate employment for Nigerians.
The minister commended the organisers of the programme for providing gainful employment for hundreds of youths in the Niger Delta.
Speaking, Dame Judith Amaechi, Founder and President of ESI, said beneficiaries were trained on plaster of Paris, plumbing, carpentry, floor tiling, electrical wiring and decoration.
She said the empowerment scheme was created to cushion skills-gap that stunted sustainable intra-personal growth in the nine states of the Niger Delta.
"We created our training platform in 2008 – which so far provided various training in vocational skills and entrepreneurial development for over 3,000 beneficiaries in Nigeria.
"ESI has aggressively engaged many children, women and youths on educational and vocational activities including capacity building both on national and international stage.
"We are focused to tackle endemic poverty head-on; develop a skilled force that enables our citizens to be employable and self-employed thereby reverse youth unemployment," she said.
She said that ESI has also created other programmes like the Feed-a-Child; Adopt-a-Child; Early Children Care; Maternal Health; Lady Cabbies Project and Advocacy programmes to cater and engage youths.
Judith, wife of Minister of Transport, Chibuike Amaechi, presented certificates, starter packs and N150,000 each to the trainees.
The Managing Director of NDDC, Mr Nsima Ekere, said the commission trained about 22,512 youths on entrepreneurial and vocational skills over the years.
He said the nation's building industry was facing a dearth of manpower in office and home finishing, pointing out that this was partly the reason why people engaged the services of foreigners.
"To this end, NDDC and ESI has taken out of the streets 100 unemployed youths of the region and redirected their energies into productive ventures for the benefit of all.
"Our partnership demonstrates what we can achieve working together in finding lasting solutions to the socio-economic difficulties and challenges confronting the region and young people," he said.
Ekere said that about 9,000 applicants applied to participate in the training programme but that only 100 were successfully admitted into the scheme.
He said the commission was open and in search of credible partners to help accelerate change, progress and development across the region.
The managing director urged youths to take advantage of the various vocational skill programmes to develop their skills for benefit of their families and society.

Load more