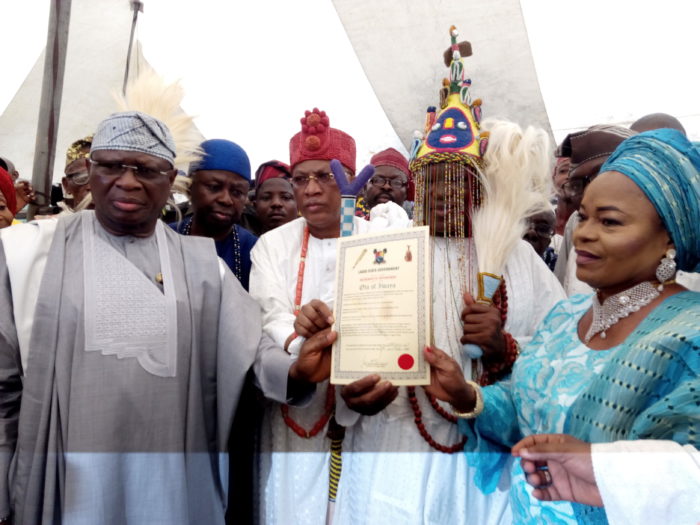 The Lagos State Governor, Mr Akinwunmi Ambode has charged traditional rulers in the to ensure they safeguard government infrastructure within their domains and environs.
The governor spoke during the installation and presentation of staff of office and instrument of appointment to Oba Muritalab Aremu Ogun- Oloko, Adeori –Okin1, the Olu of Iwaya, held at the Yaba Local Council Development Area office on Friday.
Ambode, who was represented at the occasion by the Commissioner for Local Government and Community Affairs, Muslim Folami stated that royal fathers should collaborate with the State Government in guarding jealously all infrastructural amenities provided by the State Government which is for the betterment of their communities, just as he implored youths and residents of Iwaya to desist from cultism and hooliganism but embrace good habits.
Folami said that the government would not rest on its oars in bringing infrastructural development nearer to the residents, saying that the present administration was committed to running an inclusive government by using the communities as springboard for social and economic development.
''As a custodian of the culture and tradition of your people, you should be seen as a rallying point for the maintenance of communal peace and social development,'' he stated.
He reiterated government's commitment in ensuring that the residents enjoyed dividend of democracy by assisting residents through various empowerment programmes to start up their Small Medium Scale businesses.
However, he appealed to the residents to take the cleanliness of their environment very seriously and cooperate with the environmental outfit which had been engaged for collection and disposal of refuse to ensure the success of the Cleaner Lagos Initiative.
''Please cooperate with them and let us stop dumping refuse on the medians, roads and block drains, let us make judicious use of their services as cleanliness is next to Godliness," he stated.
He disclosed that the administration since inception had installed 21 obas and 128 baales and chiefs while 12 obas were reclassified across the State, saying the traditional rulers had been serving as a veritable vehicle for the dissemination of government policies and programmes.
Permanent Secretary, Ministry of Local Government and Community Affairs, Mr Fola Padonu noted that the Installation at Iwaya was in line with the registered declaration regulating the selection of the stool.
He added that the installation was approved by the state government having been scrutinized and passed due process, saying that Olu of Iwaya was elevated from Baale to Obaship.
Speaking at the occasion, Oba Ogun-Oloko, Ade Ori Okin1, Ambode for the honour bestowed on him just as he pledged his support to the State Government in all its programmes and ensure that all the infrastructure within his domain were protected.
He, however, called on the sons, daughters and residents of Iwaya to support him and work as a team so that they could move Iwaya to an enviable height.

Load more