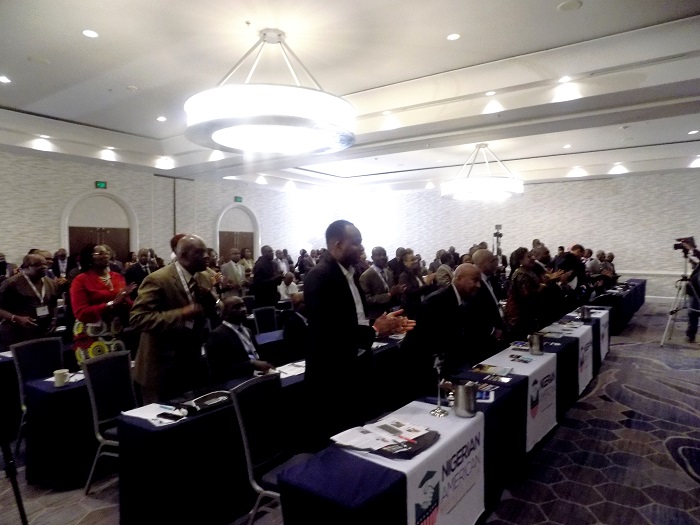 Nigerian professionals in the U.S. on Saturday converged on Florida to inaugurate the Nigerian-American Business Forum to chart a way for Nigeria's development.
The conference, with the theme: 'Investing in Nigeria from the Diaspora: Challenges and Opportunities', focused on ways to apply the professionals' wealth of experience to the country's development challenges.
The World Bank projected the flow of 22 billion dollars into Nigeria through the 2017 Diaspora remittances as a contribution to the country's growth and development, making it the world's fifth largest.
The Health and Business Development Work Group, one of the professional committees inaugurated at the Nigerian-American Business Forum at Florida to come up with workable solutions to the health and business challenges in Nigeria.
The forum inaugurated work groups made up of accomplished professionals that would come up with practical solutions to tackle the different sectoral challenges facing the country.
They included Infrastructure and Technology; Health and Business Development; Economic and Finance; and Social Responsibility, among others.
Speaking at the event, the President, Mr Kenneth Shobola, said the forum aimed to impact the wealth of experience of accomplished Nigerian diasporas for the rapid development of their homeland.
Shobola said: "Negative news is what you tend to hear much about Nigeria and these get magnified but they represent just a few Nigerians.
"Therefore, we are standing up to begin to step in to correct such negativity and change the narratives.
"Many Nigerian diasporas have stood out not only about what they do in the Diaspora but they have returned home to impact on Nigeria.
"People of Nigeria's descent have made landmark contributions to the U.S. and back home," he said.
He said the primary objective of the forum is to foster a safer investment environment for entrepreneurial business in Nigeria from the Diaspora and the globe.
Shobola regretted the high youth unemployment in the country, saying the Nigerian diasporas had the opportunity to start changing the status quo.
Shobola, however, commended the ingenuity of many Nigerians back home who had stayed back in the country and were contributing positively.
"Start from now, we are rewriting our stories; there are several Nigerians that have stood out as employers of labour here in the U.S and also back home in Nigeria.
"We are starting to make the difference and engage the lives of the Nigerian youth," he said.
According to him, the forum would project the positive investment climate in Nigeria for accomplished professionals in the U.S. to invest.
Shobola said: "While we are on the one hand looking to invest and maximise profits on our hard-earned portfolios.
"It is imperative that those ideals match the insatiable desire for positive economic advancement back home in Nigeria.
Guest speakers at the event included former Anambra Governor Peter Obi, President, Council of Nigerian Stock Exchange Abimbola Ogunbanjo, Senators Ben Murray-Bruce and Shaaba Lafiaji, and motivational speaker Fela Durotoye.

Load more