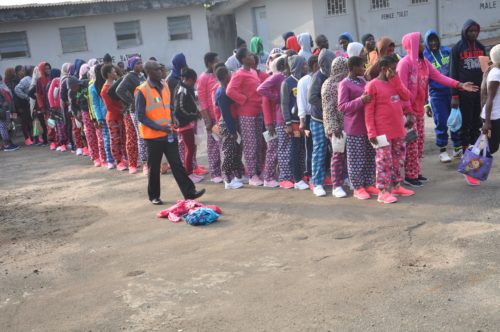 Prof. Yinka Omoregbe, Chairman, Edo Task Force on Anti Human Trafficking and Illegal Migration, says plans are underway to establish a permanent accommodation facility for Libyan returnees to the state.
Omoregbe, who is also Edo Attorney-General and Commissioner for Justice, gave the assurance shortly after receiving 141 returnees in Benin.
The returnees are the Batch Four of Libyan returnees.
The returnees are currently sheltered temporarily in a private hotel in Benin.
They will be profiled and given medical attention in the hotel before re-uniting with their families.
Omoregbe said: "We are looking at a place that will meet the need of everybody. The vulnerable ones will be with us for a long time and we take care of them.
`We are not going to house them forever; they will be there for a little longer. These ones now will stay for a couple of days.
"We have their numbers and call them whenever there are issues, when it is time for their stipends and training.
"We have counselling for them on a regular basis.''
Omoregbe hailed the state Gov. Godwin Obaseki for ensuring the welfare of the returnees, and called for support from well-meaning groups and international organisations.
According to her, catering for Libyan returnees required international assistance.
"What we are doing is not just for Edo State or Nigeria; it is an international problem that we are actually helping to solve,'' she said.
The state has received no fewer than 2,500 Libyan returnees since the evacuation started in October 2017.
The government pays some of the returnees a monthly stipend of N20, 000 each and has started the process of training some.

Load more