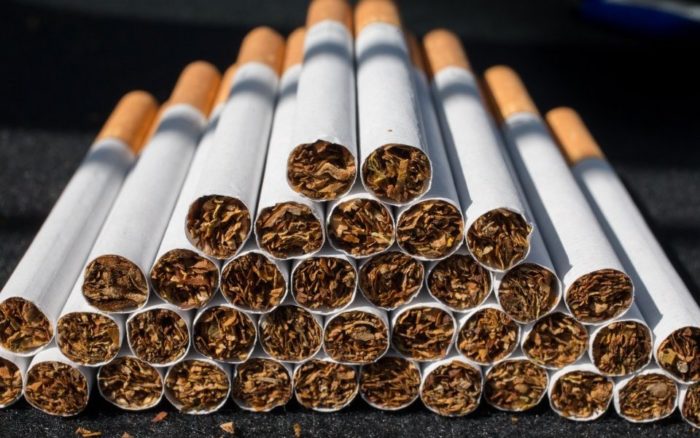 The Senate has urged the Ministry of Health and other relevant enforcement agencies to ensure the comprehensive prohibition of Tobacco Advertising Promotion and Sponsorship such as cigarette advertisement.
It also urged the Ministries of Health, Education and Information and Culture at the Federal and state levels to work together to ban advertisement of the product within and on windows and stores.
The senate equally called on the Ministry to ban location of Point of Sales (POS) of tobacco products within 100 metres of all schools.
The Senate's resolution was sequel to a motion on "the Need to Immediately Ban Tobacco Companies from Targeting School Children in Nigeria" sponsored by Sen. Oluremi Tinubu (APC-Lagos), at plenary on Tuesday.
Tinubu lamented that there was a deliberate ploy by Tobacco Companies to position tobacco adverts and signs within 100m of schools to stimulate children and youths into early interest in the use of tobacco products.
She noted that a survey carried out by Nigeria Tobacco Research Group in five states across four geopolitical zones, unearthed the location of Tobacco Products Point of Sales within visible distance of schools.
"Several distances were being 100m or less away from schools.
"Some of the affected schools with regard to distance from tobacco products Point of Sales include Kings Secondary School, Agbanni Road, Enugu 37m; Mother Care International Nursery and Primary School, Nasarawa, 13m."
Others were Danbo College, Challawa Road, Kaduna, 12m; lqraah Primary School, Ode-Aje, lbadan, 14m; Agidingbi Junior Grammar School, Lagos, 20m; Herbert Macaulay Primary School, Yaba, Lagos, 2m; and Aguda Community High School, Aguda-Surulere, Lagos, 10m.
She said that this was contrary to the Framework Convention on Tobacco Control and the National Tobacco Control Act, 2018.
According to her, the Act is aimed at the prevention and substantial reduction of accessibility of tobacco and tobacco products to young people.
Tinubu noted that tobacco consumption had been associated with lung cancer, myocardial infraction, chronic bronchitis, cardiovascular diseases, among others.
She further explained that tobacco use was a cause of preventable death in the world, saying it was projected that at least eight million deaths annually would be recorded as result of tobacco use in 2030.
"Reports have shown that four out of every five adult smokers started smoking at age 18.
"The display of tobacco and tobacco products alongside confectioneries purchased and consumed by children and adolescents may lead to exposure, experimentation and use," she said.
While seconding the motion, Sen. James Manager (PDP-Delta), said children were every vulnerable and could adapt and adopt anything they see.
"Therefore, the target for this particular motion is about the children, it's about the young ones growing up.
"To us once you target the young ones growing up and you get it right, then we can control and even minimise the consumption of tobacco.
"This is because the consumption of tobacco is associated to so many things, very dangerous things that will kill."
Manager urged the ministry to do the needful and ensure that the laws were enforced, adding that once the laws were enforced, the problem would be minimised.
Similarly, Sen. Buhari Abdulfatai (APC-Oyo) said "one is amazed that in the 21st Century up till now, in this part of the world, there is still advertisement on tobacco.
"Something fundamental is really wrong with our security if the tobacco advert is placed within the area or the premises of the school children.
"The law enforcement should enforce our law so that targeting our children should not be allowed," Abdulfatai said.
In his remarks, the Deputy President of the Senate, Chief Ike Ekweremadu, who presided over plenary, said minors needed protection.
"They are not in a position to make informed decision. I believe that the Tobacco Control Act has made adequate provision on how to protect the younger ones against some of the smoking-related problems."
He, thereafter, called on the ministry to ensure compliance with this law.

Load more