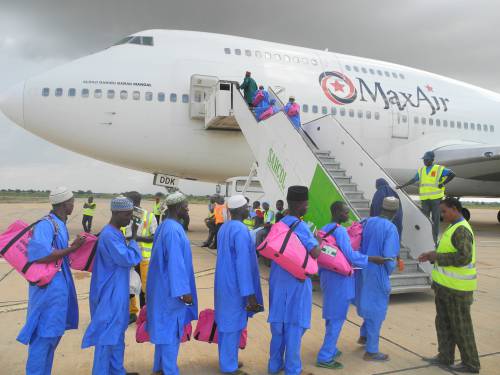 Gov. Aminu Masari of Katsina State has expressed concern over what he described as late preparations of Hajj operations by the state's Pilgrims Welfare Board.
Masari made the remark while receiving the 2017 Hajj Report from the chairman of the State Pilgrims Welfare Board, Alhaji Salisu Ado Shinkafi on Tuesday in Katsina.
''You always start your preparations late and come to put pressure on the government.
''A process which you know is coming every year, which you should start early; you don't until in the last hour.
''This created some of the problems which were as a result of bureaucracy in the board, by not doing what you are supposed to do at the time you supposed to do it,'' he said.
Masari also expressed dismay over the issue of accommodation for the state pilgrims at the Holy Land.
''I am not happy about the issue of accommodation, because since coming here we have agreed on the accommodation which was changed, so, what guarantee do I have now even if you go back it will not be changed, it has been changed twice,'' he said.
''We provide everything on our own part, but much need to be done on the operational aspect of the board especially on accommodation,'' he said.
READ: 47 secondary schools banned in Kogi over Examination malpractice
The governor also said that the preachers sponsored by the state government submitted their report where they pointed out that they were transported in the eighth, ninth and last fights.
He said the preachers were supposed to go early with pilgrims for guidance and support on the proper Hajj rites.
''I hope you will change this so that our pilgrims will have a successful Hajj.
''You should also allow the preachers to start lectures early so that the pilgrims will have it easy when they go there,'' he said.
Earlier, the Chairman of the board, Alhaji Ado Shinkafi, told the governor that the 2017 Hajj was successful though, there were some hitches.
He said that the board would start three months mandatory enlightenment on the operations.
Shinkafi said that they would also establish Hajj Offences Tribunal both at home and in the Holy land to try erring pilgrims.
He said that the board was making efforts to secure befitting accommodation closer to the Holy Mosque for the pilgrims.

Load more