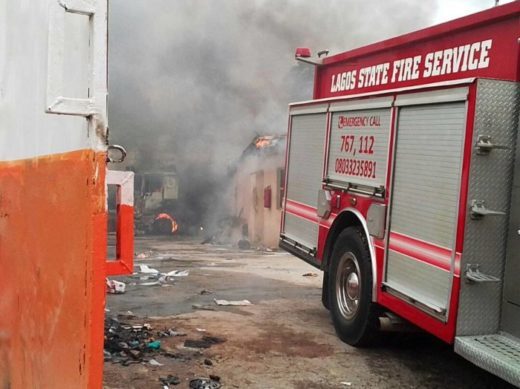 The Lagos State Government on Tuesday assured residents of Ibassa Ijegun-Egba, Satellite Town in Ojo Local Government Area that it would build fire station and other facilities in the area.
Mr Olawale Oluwo, the State Commissioner for Energy and Mineral Resources, gave the assurance during the inspection of Stallionaire Depot that was destroyed by fire on Jan. 24.
Oluwo, along with officials of the Department of Petroleum Resources (DPR) in Lagos led by Mr Wole Ayosoyoye, the Zonal Operations Controller, also visited other depots located at Ijegun Ibassa-Egba.
According to him, Ijegun-Egba Community has been known for petroleum activity because more than 10 tank farms were located in the area.
He said that his ministry would look at the safety, security and environmental hazard that this would cause the residents.
"I am still coming back to this community;   I will be here with the Ministries of Works, Environment, fire service men and others.
"We will check on how government can assist the residents in the provision of good roads, building of fire service station and safety of residents because they are paying taxes.
"I will bring in more ministries to look at the community and see how they can help to develop this area.
"Location of these depots has impacted negatively on the living condition of residents and the state government alone cannot continue to watch them.
"We will ensure that their safety is guaranteed and that all roads in the area are reconstructed," he said.
In his remarks, Ayosoyoye urged tank farm operators to maintain safety and security of their depots during and after operations.
READ: Ambode appoints Special Adviser on Taxation, Revenue Matters
He said that the fire incident at Stallionaire Depot on Jan. 24 was very unfortunate.
He said that the quick intervention of the state fire service and other relevant agencies saved the situation from escalating further.
The DPR zonal controller said that the department would begin cluster monitoring of depots in Lagos to ensure that they observe safety measure in accordance with DPR guidelines.
Ayosoyoye said that DPR had set up an inquest to know the cause of the fire incident.
Trucks were seen loading the product, while other depots were still expecting petrol from the Nigerian National Petroleum Corporation (NNPC).
Commenting, Mr John Okwuede, the Operations Manager of Emadeb, said that they received 30 million litres of petrol from NNPC on Feb. 2, and now remained 11 million litres.
Okwuede said that they were expecting more supply of the product from NNPC before the end of the week.
Also, Mr Laoye Olawuyi, the Operations Manager of First Royal, said that the company had over 12 million litres of petroleum left out of the 30 million supplied by NNPC.

Load more