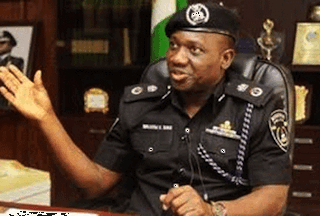 The Benue Police Command says it is investigating an Assistant Commissioner of Police, Olu Ayilara, who allegedly assaulted the Executive Chairman of the Benue Internal Revenue Service (BIRS), Mrs Mimi Orubibi, and demanded N10 million bribe.
The Police Public Relations Officer (PPRO) in the state, ASP Moses Yamu, said this in a statement on Tuesday in Makurdi.
The statement, which quoted online publications, said the X-Squad commander of the police with his team allegedly invaded the corporate headquarters of BIRS and "manhandled" its chairman in her office.
It, however, said "the officer behind the disgraceful act has been identified and investigation has commenced in earnest.''
"The Benue State Police Command's attention has been drawn to viral online publications alleging the X-Squad Unit of Police of looting and beating of staff of Benue State Internal Revenue Service (BIRS).
"It was alleged that the new Commander of the Squad demanded for N10 million from BIRS, claiming it was an order from the I-G.
"The squad was further alleged to have manhandled Mrs Mimi Orubibi, the Executive Chairman of BIRS, for refusing to agree to the unholy demand.
"The investigation will be handled dispassionately and accorded the seriousness it deserves, with a view to ensuring that the erring officer and any other officer found wanting are made to face the full wrath of the law, " it said
The statement reiterated the commitment of the I-G to ensuring that officers' actions were carried out in conformity with the rule of law and respect of fundamental rights.
"It is in view of the foregoing that the command wishes to inform the general public that it has taken immediate action, with the support of the governor of the state, to prevent breakdown of law and order in the state capital.
"The command further commends the leadership and understanding of Gov. Samuel Ortom and Sen. George Akume for their support and quick resolution of the ugly incident,'' the statement said.

Load more