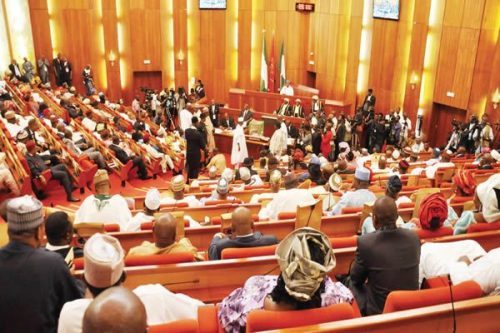 The Senate on Tuesday urged the Federal Government to ensure that critical rural roads across the roads were constructed or rehabilitated to ease evacuation of agricultural products in the country.
This followed the adoption of a motion entitled "The Socio-Economic Importance of Rural Roads", sponsored by Sen. Chukwuka Utazi.
Moving the motion, Utazi said that availability of rural roads would bring multiple socio-economic benefits to the country.
He said that good roads would facilitate the attainment of the country's goal for food sufficiency as well as create wealth.
According to Utazi, there are many important roads across the states of the federation with rural content that should be constructed to achieve a broad-based agro-economic and youth empowerment integration.
"Construction of rural roads will ensure proper evacuation of agricultural products produced in commercial quantities, create gainful employment for the youth and control urban migration.
"The Federal Government as a way of tackling high youth unemployment, pursuant to its policy to revive and diversify the economy, has been strident in asking the youth to return to agriculture.
"This is a means of wealth creation and empowerment.
"It is a call which many young persons have subscribed to yet the government does not seem to provide the necessary infrastructure to support the youth in their quest to be self-employed,'' he said.
The lawmaker pointed out that the benefits of constructing rural roads would extend to minimizing criminality, hooliganism and other vices in the society.
In his contribution, Sen. Stella Oduah expressed worry that the country's high agricultural potential was not fully explored due to the state of rural roads.
She said that construction and rehabilitation of critical rural roads would promote alternative source of income and reduce unemployment in the country.
On his part, Sen. Gbolahan Dada called for a special fund for construction and rehabilitation of rural roads in the country.
In his ruling, Deputy President of the Senate, Mr Ike Ekweremadu, who presided at the plenary, described good roads as "economic corridors that attract investments and development''.
"Once the roads are good, you start seeing the establishment of companies and things like filling stations and this will in turn create jobs,'' Ekweremadu said.

Load more