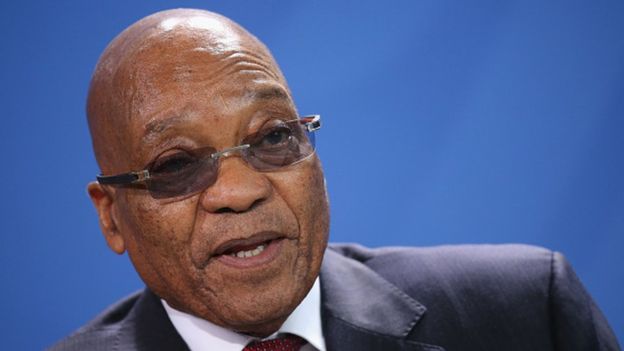 The Presidency said South Africa's President Jacob Zuma was chairing routine cabinet committee meetings in Cape Town on Tuesday and not holding a "special cabinet meeting" as reported in local media.
Bongani Ngqulunga, Zuma's spokesman, said a full cabinet meeting was scheduled for Wednesday.
He dismissed speculation in domestic media the embattled president had called a meeting to discuss his future with his cabinet colleagues.
The African National Congress (ANC) met on Monday to discuss Zuma's future amid growing
pressure on the 75-year-old leader to step down as head of state over corruption allegations and a weakened economy.
Zuma, in power since 2009, has been deserted by prominent allies since being replaced in December as ANC leader by Cyril Ramaphosa, South Africa's deputy president, who is now lobbying behind the scenes for him to step down as president too.
Overnight talks with top ANC officials failed to persuade him to quit, and a group of Zuma loyalists said they would march on Monday on the party's headquarters in downtown Johannesburg, Luthuli House, in support of the president.
ANC officials said the party had summoned its National Working Committee (NWC) to meet at 1200 GMT at Luthuli House.
The NWC handles the day-to-day running of the ANC, which has run South Africa since the end of white minority rule in 1994.
It would need to call a meeting of the National Executive Committee to force Zuma to quit.
Asked about the ongoing talks surrounding Zuma, ANC spokeswoman Khusela Diko said: "There is no crisis within the ANC, we are used to robust discussions."
The ANC's top six most powerful officials met Zuma late on Sunday at his official residence in Pretoria but there was no announcement of the outcome.
After the pro-Zuma group Black First Land First announced its march on Monday, a pro-Ramaphosa faction of the ANC said it would "defend" Luthuli House, raising the prospect of clashes between different camps within the party.
The ANC said it respected the right of citizens to protest in a disciplined and peaceful manner.
Opposition parties and some in the ANC want Zuma to go before his state of the nation address to parliament, scheduled for Thursday.
Zuma has not said in public whether he will step down voluntarily. But he faces a new confidence-vote in parliament against his leadership on Feb. 22 filed by the opposition far-left Economic Freedom Fighters party (EFF).
The EFF has asked the speaker of parliament, Baleka Mbete, to allow a secret ballot for the no-confidence vote, a decision which would increase the chances of Zuma losing the vote.
Unlike in August when Zuma survived a no-confidence vote, a significant portion of the ANC now wants him gone.
If he lost the vote, his entire cabinet would have to step down.
Zuma will meet Zulu King Goodwill Zwelithini at 1200 GMT on Monday at the king's residence in Ulundi in the Kwa-Zulu Natal province, said Prince Thulani Zulu, a spokesman for the Zulu royal household.
The spokesman declined to speculate on whether the king, a key ally of Zuma, who is also a Zulu, would add his voice to those urging the president to step down.
Zuma's spokesman Bongani Ngqulunga said the meeting with Zwelithini was "a longstanding courtesy meeting between the President and His Majesty which was initially meant to take place in January but was postponed due to diary challenges on both sides".
Zwelithini is the influential traditional head of South Africa's biggest ethnic group, with around 10 million first-language Zulu speakers out of a total population of around 55 million, but he holds no role in government.
"Zuma would listen to the Zulu king. Zuma is a traditionalist and has a power base in KwaZulu-Natal province," said political analyst Ralph Mathekga.
"The king is a bargainer, he could help Cyril (Ramaphosa) heal KwaZulu-Natal after Zuma goes."

Load more