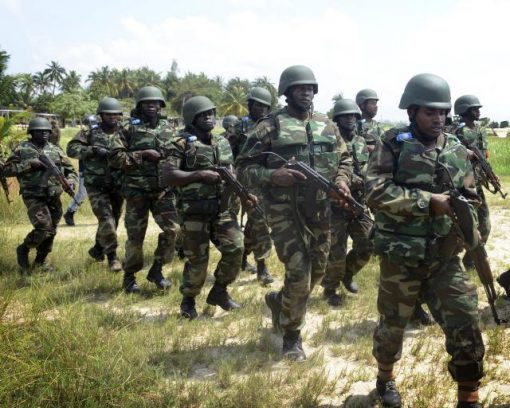 The Nigerian Army said on Wednesday that it would conduct a special exercise tagged: "Ayem Akpatuma'' – `Cat Race' to tackle recurring herdsmen/farmers clashes and criminal activities in Benue, Taraba and four other states.
The other states are: Nasarawa, Kogi, Niger and Kaduna states.
The exercise, according to Maj.-Gen. David Ahmadu, the Chief of Training and Operations, will commence on Feb. 15 and end on March 31.
Ahmadu, who briefed newsmen on the exercise, said it would address emerging security challenges within the 1 and 3 Divisions including Headquarters, Army Records, Guards Brigade and 707 Special Forces Brigade "Areas of Responsibility.''
He said it would also aid civil authority to address those challenges.
"More so, Exercise Ayem Akpatuma has become more expedient due to upsurge in cases of armed banditry, kidnapping and cattle rustling in Kaduna and Niger States as well as other sundry crimes in Kogi State and herdsmen/farmers clashes and attacks on innocent members of our communities, particularly in Benue, Taraba and Nasarawa States by armed militias.
"These security challenges have continued unabatedly in these states despite the efforts by sister security agencies to curb them.
"The need for troops to be exercised, refreshed and to imbibe the requisite skills to cope with these emerging security challenges within the 1 and 3Divisions including Headquarters, Army Records, Guards Brigade and 707 Special Forces Brigade Areas of Responsibility in aid of civil authority, calls for this exercise,'' Ahmadu said.
He said the exercise would be conducted in conjunction with other security agencies such as DSS, Police and the Nigeria Security and Civil Defence Corps.
According to him, it will also afford the troops with the opportunity to effectively checkmate the dreadful activities of the marauding criminal militias perpetrating criminal acts in those states and their environs.
He said that the exercise was "conceptualised to dovetail into real time operations thereby fulfilling both training and operations objectives of sharpening operational skills of personnel.
"It will also provide an avenue to conduct operations against violent criminals when called upon,'' he said.
The chief of training said that the exercise would be unique as "Step-Up Brigade Headquarters'' would be established in Benue, Taraba, Kogi, Nasarawa, Kaduna and Niger States.
"Emphasis will be placed on raids, cordon-and-search operations, anti-kidnapping drills, road blocks, check points and show of force, as well as humanitarian activities such as medical outreach,'' he added.
Ahmadu called on members of the public in the affected states not to panic as their security, safety and well being had been "deliberately factored in the planning of the exercise.''
He also assured that troops taking part in the exercise would be guided by the professional "Code of Conduct, Rules of Engagement and the respect for human rights.''
He said that in case of complaints, the public could call the "Nigerian Army Short Code Information and Call Centre 193.''
Also, the army spokesman, Brig.-Gen. Sani Usman provided additional numbers the public could call to lodge complaints or give use information: 1 Division, 07037545309, 3 Division, 07066009773, 08038918694, Headquarters, Army Records, Lokoja, 08039369404, 08038297329, Guards Brigade, 08037711185 and Special Forces Brigade, 09060006707 and 07084745444.

Load more