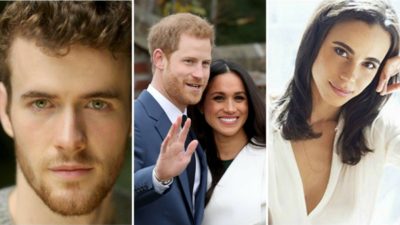 British Prince Harry and Fiancé Meghan Markle's romance will be chronicled in a movie titled `Harry & Meghan: A Royal Romance.'
Actor Murray Fraser popularly known for his role in 'The Loch' will portray Prince Harry while Markle will be portrayed by actress Parisa Fitz – Henley.
According to the producers of Lifetime Network, the movie will movie chronicle the courtship and love story between the duo as well as the history of how Harry and Markle met.
It will cover the story from the moment they were set up by friends through their courtship and eventual public debut.
The movie will also focus on the global attention surrounding their relationship and Markle's life as a divorced American actress.
Markle will be the first person of mixed race heritage and the second American to marry into the British royal family which has attracted a lot of international attention and debate.
The engagement, which was announced on November 27, 2017, prompted comments about the possible social significance of Meghan Markle becoming a proudly mixed-race royal.
The movie will be executively produced by Merideth Finn and Michele Weiss Scarlett.
While Lacey and Terrence Coli penned the script, Menhaj Huda will direct.
Principal production begins this week in Vancouver and Los Angeles, with the movie set to debut on Lifetime before the wedding billed to take place on May 19.
Harry, 33 is fifth in the line of succession to the British throne and Markle, 36 is a mixed-race divorced American actress best known for her role in legal series 'Suits'.
The couple were engaged in November, 2017 after roughly fifteen months of dating.
Markle, who is a human rights advocate, was rumoured to have suffered harassment from the royal family which the latter denied.
Lifetime had previously produced and aired 'William & Kate: The Movie' in 2011, just 11 days before the marriage of Prince William of Wales and Kate Middleton.
Lifetime Movies produces and airs movies and exclusive shows aimed at women and pop culture, especially made for television movies.

Load more