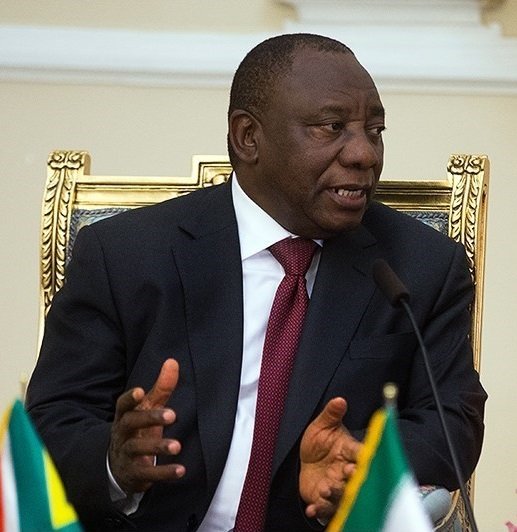 South Africa's African National Congress party leader Cyril Ramaphosa said on Wednesday he is holding direct talks with President Jacob Zuma over a transition and matters relating to Zuma's position as president of the country.
Zuma, in power since 2009 and beset by corruption allegations, has been in a weakened position since Deputy President Ramaphosa replaced him as ANC leader in December.
Ramaphosa has talked of a transition of power since he took over as leader of the ANC.
In a statement, Ramaphosa said he and Zuma hoped to conclude their discussions and report back to country "in coming days".
Ramaphosa said the process was an opportunity to conclude the matter without causing discord or division in the country.
The ANC had scheduled an urgent meeting of its national executive on Wednesday evening to discuss Zuma's future but postponed it late on Tuesday after "constructive" talks between Zuma and Ramaphosa.
The delay increased speculation that a deal for Zuma to resign had been ironed out. Times Live, an online news service, quoted sources as saying Zuma would resign as soon as a list of preconditions had been finalised.
"In this day there will be some progress which the president of the ANC will be ready to come back to us about," she told the eNCA television channel.
Zuma's spokesman declined to comment.
Zuma engineered the ouster of former president Thabo Mbeki in 2008 shortly after taking over the helm of the ANC.
He has not said whether he will resign voluntarily before his second term as president ends next year.
The 75-year-old has been South Africa's most controversial president since the end of white-minority rule in 1994, overseeing a tumultuous nine years marked by economic decline and numerous allegations of corruption.
Some within the ANC and the opposition say the Gupta family, friends of Zuma, have used their links with the president to influence cabinet appointments and win state tenders.
The Guptas and Zuma have denied any wrongdoing but the allegations are the focus of a judicial enquiry.

Load more