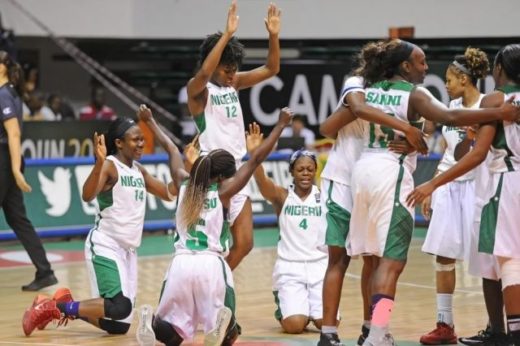 Peter Ahmedu, the coach of Nigeria's senior national women basketball team, on Thursday said he was optimistic that the team would do well at the 2018 FIBA World Cup in Spain.
The competition holds from Sept. 22 to Sept. 30 in Tenerife.
D'Tigress are grouped alongside Turkey, Australia and Argentina.
Ahmedu told newsmen in Lagos that with good preparations and the right players anything was possible.
The coach, however, described the group as a very tough one, assuring basketball fans that with Nigeria could surpass all expectations.
"We will do well if we start preparations early and have the right players on ground to train and build a good team towards the competition.
"We are the current African champions, a feat we achieved not too long ago where nobody gave us a chance. We proved the doubters wrong.
"The World Cup challenge is obviously a different terrain, but with the array of players we have in Europe, Asia and the U.S., we can make spring some surprises,'' Ahmedu said.
READ: Nestle Nigeria Inaugurates Milo Ready To Drink Plant
Speaking also, Sam Ahmedu, the President of FIBA Zone 3 West Africa, assured that all necessary things would be done to ensure that Nigeria performed well at the competition.
"It is going to be a very tight group but we can shock the world of basketball.
"Preparations have started already as we have informed the players. So, when we call for them to resume camp they will be ready to perform their task,'' the retired Nigerian Army Colonel said.
Also, the FIBA Executive Director for Africa, Alphonse Bile, while assessing Nigeria's chances at the World Cup, acknowledged that it was going to be a difficult task.
"Nigeria is a good team, but playing against Turkey who are one of the strong teams in Europe and Australia who are one of the best teams in the world will not be easy.
"But that is not to write the Nigerian team off, because in basketball anything is possible. I wish them well however,'' Bile said.
Bile was in Nigeria alongside two other FIBA officials for a two day inter-face with some stakeholders on the crisis rocking the game in Nigeria.
They also undertook a feasibility check on the Indoor Hall of the National Stadium in Lagos.
D'Tigers, the senior national men's team, will take on Mali in the Africa qualifiers for the FIBA Men's World Cup on Feb 22 at the venue.

Load more