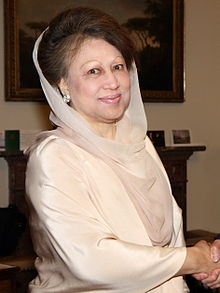 Two-time former Bangladesh prime minister Khaleda Zia has been sentenced to five years in jail for misappropriating funds meant for orphans, local media reported Thursday.
Zia, who is now chief of the opposition Bangladesh Nationalist Party (BNP), and five others had been charged after foreign donations intended for a charity went missing.
The BNP has dismissed the case as politically motivated.
Zia had faced the possibility of a life sentence.
Security was tight across Bangladesh in anticipation of the judgement by a special court in Dhaka with police checkpoints set up across the capital.
Ahead of the ruling, law enforcement used teargas to disperse several hundred opposition activists.
Television footage showed police detaining a number of demonstrators, some of whom pelted bricks at officers.
A motorbike was also set on fire in the city.
Zia served as prime minister from 1991 to 1996 and then from 2001 to 2006.

Load more