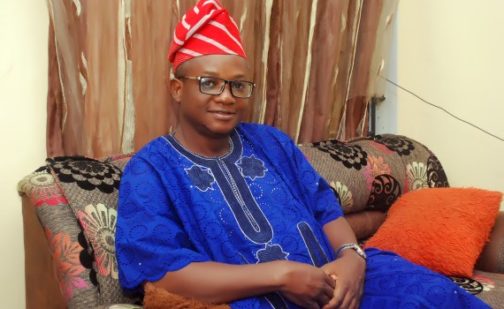 Interview with Engr. Dr. Taofeek Olayinka Ayinde, Osun State APC governorship aspirant for the 2018 election. Excerpt
1. You are aspiring to be the Governor of Osun State this year, what are your blueprints for the development of the state?
My blueprints are the type expected to bring back the groove and the pride of Osun and also bring back hope, power and responsibility to the people of Osun. In the blueprints, I have a clear vision of where our people in Osun should be. My mission in government is clearly well defined. And I have come with fresh and bold agenda tagged Renewal, Restoration and Redemption (RRR) meant to fulfill the expectations of bringing back hope, power and responsibility to the people of the State.
"I have a unique four cardinal programmes specially designed to properly and adequately harness more than enough energies of our youths for productive use, the summary of which include that in Osun, every adults shall be dutifully engaged. All youths shall be skillfully engaged and all community shall be communally engaged. In a nutshell there shall be no or little idle hands in Osun under my watch. The production value chain shall be empowered and there shall be adequate information, education care and medical care. And in addition to the ongoing regional integration there shall be National and Global integration to bridge the resources and investment gaps in the State. I have developed economic tools tagged MMM to be used to run the economy of the state to self sustenance. I have decided to use modern administrative and management strategies comprising the four Ms to effectively turn the fortunes of Osun into an enviable State in Nigeria with a well defined governance model that has never been used anywhere before. We shall have our watchwords in government and watchwords for our people and we shall have and pursue well defined value systems for our people in the State. And lastly I have devised in the blueprint 50 Pointers as checklists to continually appraise our performance in government.
"We will make our people productive, self sufficient and thrive economically through people focused projects in agriculture, technology and industrialisation, entrepreneurship, sports and education. All these are detailed in the blue print which shall be unveiled at the appropriate time and they are expected to prove that we are capable of shaping our destinies in the state of Osun. In a nutshell nobody in Osun State will be left out of the RRR Movement.
2.Tell us about yourself.
I am Taofeek Olayinka Ayinde, a registered Engineer, Professional Manager, Registered Administrator, Oil and Gas Economist, Author and Coach and Mentor of Youths in Leadership. My working experience is already spanning up to 24 years as Lecturer first as part time and later full time in the Petroleum Training Institute, Effurun and over seventeen years as Founder and General Coordinator of Centre for Productive Visionary Leadership, CPVL, Effurun Warri, Delta State, an NGO dedicated to youths development and empowerment. I started playing politics on campus as two time Students' Representative Council Member, FUTA Students' Union, Hall Executive Council Secretary General, FUTASU, Treasurer, Electrical and Electronic Engineering Students Association, FUTA. I began civil politics as a member of the defunct SDP and later DPN. I became very active in politics as a member of AD during which I actively participated in electioneering campaign of Chief Olu Falae as presidential candidate which nearly earned me commissionership post under Chief Adebisi Akande as the Governor of Osun State then. Later I was the Publicity Secretary (AD) Uvwie LGA, Delta, after which I returned to my community, Iwo, to aspire for Osun State House of Assembly for which I was not chosen by the party leaders then in AD. After this I contested for Federal House of Representatives as an NCP candidate and I did not win. In fact, it was the death of Chief Bola Ige and later the nature of my job that reduced my active participation in politics to the Ward level from where we delivered the highest votes per polling unit in my polling unit that is APC 177 votes against Accord 1 vote in the just concluded parliamentarian Council Election in the State. You can now see that I'm the only person as candidate of the party from Iwo who could be used to deliver the highest possible votes for APC in the forthcoming election without any rancor or acrimony. I challenge the leadership of our party to go and investigate this. Because I'm the new revelation into the political dynamics of the State of Osun.
3. How would you assess the performances of Governor Rauf Aregbesola and President Muhammadu Buhari?
In my opinion, Governor Aregbesola has performed creditably well in the areas of investments into infrastructural development of the State, except in the area of payment of modulated salary which really affected the economy of the State, and opposition party and aggrieved party members have taken advantage of this to blackmail him. I hope he would be able overcome this soonest. The earlier he overcomes this, the better. Above all he has performed satisfactorily well. In President Buhari's case, he promised to fight corruption, secure the country and revamp the economy. In terms of corruption, he has confronted corruption headlong, he has even touched the so-called untouchables but his inability to secure convictions on most of the cases has reduced the acceptability of his performance. Concerning security of the country, he has technically defeated Boko Haram but his inability to quickly respond and curtail the incessant killings by herdsmen across the country has drastically reduced his popularity in this regard. Also in terms of the economy, he has been able to overcome recession in the shortest possible period and foreign reserves has increased, and he is presently diversifying economy but the current fuel scarcity has exposed some lapses in the running of the economy. For me he has performed satisfactorily well but as usual very much below the expectations of the masses.
4.In view of the current recession in the country where many governor cannot pay workers salaries how do you intend to fulfill your electoral promises?
You know in Osun State, human resource is the ultimate. It is the ability of the government of the day to appeal to the sub consciousness of the people that would determine how much people will be willing to cooperate with the government especially when the target is to generate maximum possible Internally Generated Revenue. We are going to cooperate and work with people. We will concentrate more on making productive use of our youths, they will be empowered to produce more, and their energies would be channeled towards improving on everything we have in the State. With this, we intend to build a self sustaining economy for the State. Any project that is not sustainable will be made sustainable. The era of building just legacy projects is gone. Therefore, we shall always confirm sustainability of every project. we'll be embarking on, so as to ensure generation of enough funds to run the government apart from the statutory allocation from the federal government. With this, we'll be able to fulfill most, if not all the electoral promises.
5. With your background as an engineer without experience in governance, how will you achieve your dreams?
Let me say this frankly, I am not going to run a one man government and I won't claim to know it all. I'll build a strong team around myself, including those with experience in governance. The team will be made to understand every contents of vision, mission, agenda and programmes to ease the delivery of our actions in government. My skill as a Life Coach will be fully deployed to build my team to achieve maximally and everybody in the team will be fully equipped with all necessary management and administrative tools and strategies for effective development and delivery of all our projects in government based on my experience and also as an administrator and professional manager. In a nutshell, our government will not be based on the experience of one man. People with diverse experience will be brought into the team to tackle the serious business of bringing back the pride of Osun as an enviable State in Nigeria.
6. Osun is an agrarian State, how would you turn the fortune of the state around in the area of Agriculture.
Yes, Agriculture is the key to sustenance of life, but Osun under my watch would do more of Agribusiness than agriculture. Our youths will be heavily challenged to delve into processing agricultural products, they would be dutifully mobilized and empowered into production of finished products and in addition be charged to invest more of their labour into commercial cultivation of both food and cash crops. The present administration's investments into agricultural production would be further expanded and be made to ensure adequate food security. We'll provide incentives that will make agriculture and agribusiness become more attractive and profitable than before.
7.Did you support the clamour for the restructuring of the country?
It depends on what we understand by restructuring, because restructuring means differently to different individuals and groups. To some, it means going back to regional government, to some it means to amend the constitution, to some it means to drop the presidential system of government while to some it means true democracy. Even some are clamouring for secession in the name of restructuring while to some it is resource control.
"In fact it has become the language of people outside the corridors of power once you are in government you see no more restructuring again which means there is no sincerity in the clamour for it. And just as you asked, I will say restructuring was a word brought to prominence by political gladiators who fell out of the central government as a negotiation tool to maintain or sustain political relevance and patronage in governance. Originally, it was the voice of those who witnessed and enjoyed the privileges of the pre-independent regional government to negotiate political appointments. That led to the creation of the six unconstitutional geopolitical zones for the same intentions and moments. We don't need restructuring based on geographical descriptions. None of the existing geographical zones is politically, economically and or socially homogeneous, even the States are not.
"It's the institutional restructuring with special focus on effective redistribution of the Commonwealth with global economy in close view that's needed. The restructuring we deserve is the one that will be politically constitutional with strong determination to achieve sustainable economic growth, physical development, and social and economic progress for every citizen (individuals and corporate bodies) of Nigeria. With this we'll be proud of our capabilities to shape our destinies and the destiny of our dear country. With good governance and less deadly contention for power and when we have lesser people seeking power before purpose, then the clamour for restructuring would naturally die off.
8. Recently former President Obasanjo asked President Buhari not to run for second term, what are your views?
Well, my view is that both former President Obasanjo and President Buhari are elderly and they should be able to know what is good for them to do at the right time. They both know how best to handle their decisions.

Load more