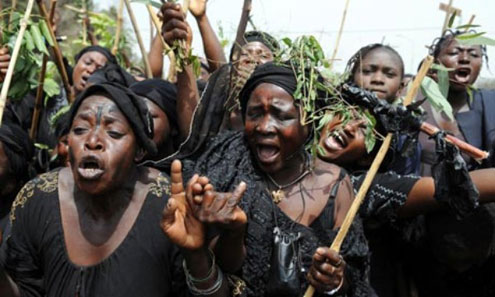 Prof. Clement Dakas, Dean, Faculty of Law, University of Jos, has advised women groups to challenge obnoxious cultures and harmful traditional practices in court.
"Many of the atrocities committed against women continue because women have not collectively gone to court to challenge them.
"Women prefer to suffer in silence; they prefer to say "I leave everything to God'. It is good to leave everything to God, but God also endowed us with wisdom and provided us with mechanisms and opportunities to seek justice.
"God does not allow injustice; women must challenge injustice because they have the right to do so,'' he said on Thursday in Jos.
Dakas, who was Guest Speaker at the National Executive Council meeting of the Nigeria Association of Women Journalists (NAWOJ), challenged women journalists to lead the struggle to free women from such harmful practices.
He particularly condemned situations where childless women or others that had only female children were thrown out of their matrimonial homes after the death of their husbands, describing that as "absurd''.
Dakas also condemned the act of forcing women to drink the water used to wash the dead bodies of their husbands so as to confirm that they had not killed their spouses, and urged communities engaged in that practice to discard it.
"A woman asked to drink such water has the right to refuse and quickly go to court. The practice has continued because no one has challenged it,'' he said.
The don also condemned the act of shaving the heads of widows or keeping them incommunicado after the deaths of their spouses, noting that such practices were archaic and should be avoided.
He also condemned female circumcision otherwise known as Female Genital Mutilation, and decried the constant abuse of little girls by "uncles'' who serially rape them.
Dakas also condemned the special attention given to the male child over his female counterpart, and advised that both be given equal education opportunities to explore their potentials.
The don advised men to invest more in their wives and female children because many women had become bread winners in many homes, while the female children had proved more caring to aged parents.
He also advised men to write wills and steadily update them so as to protect their wives and children when they (men) die.
"Men should also buy property in the name of their spouses or include their spouses' names as joint owners of property to give the women a legal standing to claim such property in their absence.
The don also expressed surprise that some men preferred to make their brothers next of kin.
"When you do that, you have surrendered everything to such brother; you have placed your wife and children at his mercy. Such brother will use your resources to cater for his family leaving yours in abject poverty,'' he said.
Dakas urged women groups to propose bills that would enhance the status of women, and challenged NAWOJ to lead the campaign to enact and propagate laws that would protect women in Nigeria.
"What we need is sustained advocacy; NAWOJ is in the best position to do that.
"Women that are law makers or those that are wives or sisters to the President, the Vice President, Senators, Governors and Speakers, also have roles to play in such advocacy,'' he said.
The don urged men to invest heavily on their wives and female children so as to build their capacities and empower them to challenge any injustice meted to them.

Load more